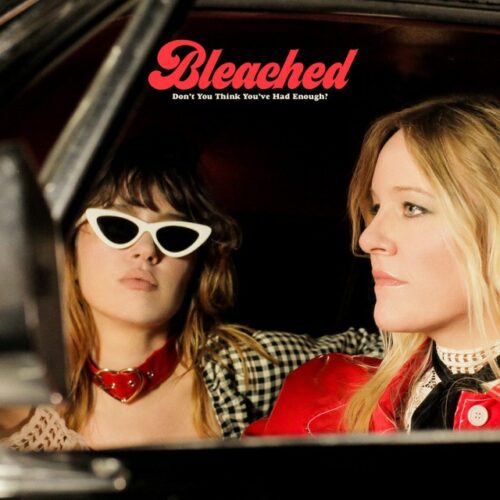 Los Angles based sister duo Bleached will release their highly anticipated album " Don't You Think You've Had Enough" on July 12th courtesy of Dead Oceans. It's their first new music since  the release of the "Can You Deal?" EP back in 2017 and from the 3 tracks that have surfaced so far I can certainly say that the band are moving in new directions  as they have truly reinvented themselves in refreshing fashion. 
Lead single "Hard To Kill" echoes the spirits of classic bands like Blondie, Gang Of Four and Flock Of Seagulls. It's infectious bass line meshes perfectly with Jennifer Clavin's energetic and charming vocal attack. There's a pulsating energy to it all that's absolutely relentless.  .
On the other hand "Shitty Ballet" starts out as a simple acoustic track that eventually turns into a full tilt blast of rock n roll noise. The acoustic side of the song is certainly something new for Bleached and they pull it off well. It's the kind of track that really speaks to you and draws you in with every word.
"Kiss You Goodbye" offers more of the high energy dance rock n roll feel that the band seems to be expanding on. They lock into a groove and just don't quit. I can already hear these tracks blasting at summer dance parties around the globe.
After several years of recording albums and relentless touring It's apparent that Bleached are feeling rejuvenated . "Don't You Think You've Had Enough?"  captures their drive and uncompromising spirit in each and every note.
Fresh off the road supporting Refused and The Hives, the band play The Moroccan Lounge in L.A.  on July 11th followed by festival gigs in the UK and a 5 week U.S.tour.
Thu. July 11 – Los Angeles, Ca @ Moroccan Lounge
Thu. Aug. 22 – London, UK @ The Lexington
Sat. Aug. 24 – Reading, UK @ Reading Festival
Sun. Aug. 25 – Leeds, UK @ Leeds Festival
Thu Sept. 5 – San Diego CA @ The Casbah
Fri. Sept 6 – Pomona CA @ The Glass House
Sat. Sept. 7 – Phoenix, AZ @ Valley Bar
Mon. Sept. 9 – Austin, TX @ Barracuda
Tue. Sept. 10 – Dallas, TX @ Club Dada
Wed. Sept. 11 – Houston, TX @ Satellite Bar
Fri. Sept. 13 – New Orleans, LA @ Gasa Gasa
Sat. Sept. 14 – Atlanta, GA @ Masquerade (Hell)
Sun. Sept. 15 – Raleigh, NC @ Motorco
Tue. Sept. 17 – Washington, DC @ U Street Music Hall
Thu. Sept. 19 – Brooklyn, NY @ Elsewhere
Fri. Sept. 20 – Philadelphia, PA @ PhilaMOCA
Sat. Sept. 21 – Boston, MA @ Brighton Music Hall
Mon. Sept. 23 – Toronto, ON @ Horseshoe Tavern
Tue. Sept. 24 – Columbus, OH @ The Basement
Wed. Sept. 25 – Nashville, TN @ Exit In
Fri. Sept. 27 – Urbana, IL @ Pygmalion Festival
Sat. Sept. 28 – Minneapolis, MN @ 7th Street Entry
Sun. Sept. 29 – Chicago, IL @ Lincoln Hall
Tue. Oct. 1 – Kansas City, MO @ Riot Room (Outdoors)
Thu. Oct. 3 – Denver, CO @ Globe Hall
Sat. Oct. 5 – Boise, ID @ The Olympic
Mon. Oct. 7 – Seattle, WA @ Crocodile
Tue. Oct. 8 – Vancouver, BC @ Biltmore Cabaret
Wed. Oct. 9 – Portland, OR @ Star Theater
Fri. Oct. 11 – Oakland, CA @ New Parish
Sat. Oct. 12 – Los Angeles CA @ Lodge Room