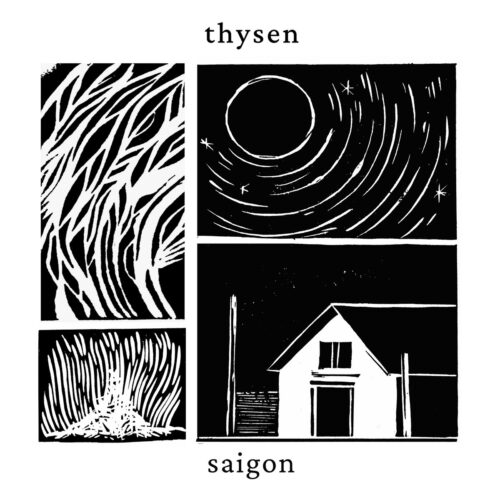 thysen is a post-shoegaze quartet based in Leeds, UK.  Their new E.P. "Saigon" is set for release on June 30th and I must say it's a tremendous set of songs you wont want to miss out on.
Lead off track "Splinter" is a whirlwind of mind bending sound and energy with it's hypnotic guitar riff and shadowy vocals. It's the kind of song that gets caught in your head and you just want to hear it over and over. It's laced with so many inspiring nuances of layered sounds it really inspires you to take it all in multiple times.
"Go" is more bouncy and breezy feeling but just as psychedelic and twisted. With it's driving beat, vibrant guitars and rolling bassline It blends all of the best ingredients and charm of classic 80's new wave and post punk into one. The vocals are also breathtakingly beautiful as the words "Where Do We Go???" are repeated with passionate intensity.
The bleak tone of "Plastic Castles" paints a picture of despair that makes me think what it would have been like if Robert Smith & Adrian Borland had ever collaborated together. It has a very cinematic presence to it all that's quite extraordinary.
Last but certainly not least "Sun I Stare" carries this E.P. out in grand fashion. It's an epic piece of bona fide shoegaze magic. Again the vocals drive the track alongside layers of massive guitars and pounding rhythms. It's certainly the most intense track of the four as it's got a real apocalyptic feel especially towards the end with all of it's noise driven mayhem.
I really can't recommend this record enough. thysen take their range of influences, mix them all in a blender and add in a level of fierceness and passion that most bands can't create. Given the current state of the world this is the kind of music we need more than ever.
Check out the video for "Splinter" below and pre-order "Saigon" on bandcamp here.