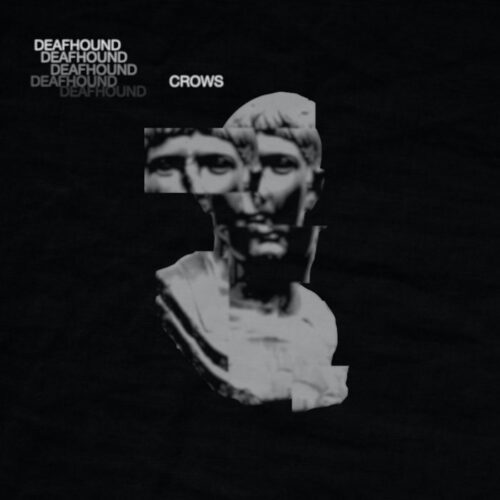 DEAFHOUND have carved out a truly original style and sound on their debut full length album "Crows". Made up of Mitch Owens, Tom Salamunovich and  Nick Cocores the group take more conventional rock song structures and turn them into massive walls of euphoric sound expression.
The slow paced opening number "CHKN" starts out with some lightly picked guitars that quickly build up an underlying tension. The vocals bring a sinister, gloom and doom feel to the track before quickly blasting into a full on cathartic scream that has you experiencing the bands raw emotion and bare bones energy right along with them. It's got a heaviness to it all that's far more psychological and subliminal than your typical "heavy" type of band.
"Haunted" has a dark infectious rhythm as the bass and lead guitars glide along to the shuffling beat with a shadowy dose of swagger and sway. There's a high level of mystery that surrounds the track as the lead vocals get more and more passionate as things progress. It's a very cinematic piece full of primal intensity.
Up next is the more breezy, laid back feeling "Summer".  The guitars take a more hook filled, melodic stance on this one and offer a more colorful vibe that's inviting and warm while the title track  shares some similarities with it's ambient tones and more mellow demeanor.
The full chord approach of "Dull" is also a highlight of the record.  It shows another side of the band and offers up a vibe that channels the likes of The Velvets and The Feelies.
Meanwhile the darkness and vehemence return with the intoxicating sounds of "Rundle" and "Die irae". Both songs move like a whispering fog before exploding into a thunderous display of angst and abreactive behavior.
Everything closes out with the lulling flow of "CODA" which offers a sense of peace, relief and hope to the record and leaves you wondering what will come next.
All in all "Crows" is one of the most intense collection of songs you will ever hear. It's almost like a great novel as the album literally takes you on an emotional roller coaster from darkness to blissfulness and back again. It's full of honesty and raw emotion and I really can't get enough of it.
Have a listen to "Haunted" below and get the full album here.