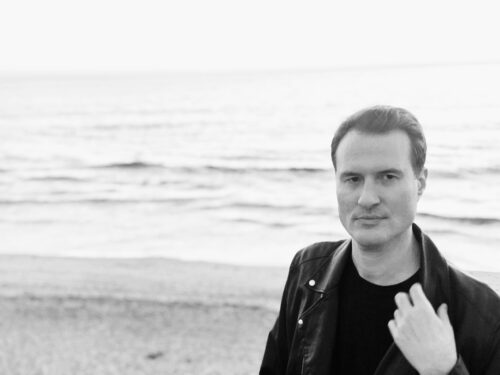 San Diego singer-songwriter Zach Phillips has released his fourth album, "Goddaughters." It follows 2020's critically acclaimed "The Wine of
Youth," which was nominated for a San Diego Music Award in the Best Americana Album category — and called "a timeless, yet contemporary masterpiece" by Roots Music Report.
A companion and dark sister to "The Wine of Youth," "Goddaughters" is a roots-rock song cycle that draws as much from spectral dream-pop as it does folk and indie. Following in the vein of classic singer-songwriters (Wilco, Neil Young, Lucinda Williams, Conor Oberst), it was conceived early in the pandemic and began with a simple question: What does a final album sound like?
I sat down with Phillips to talk about early musical memories, the inspiration to write songs and the making of "Goddaughters". For more on Zack's music click here.
What was the first music that really made an impact on you as a child and what artist did you enjoy the most? 
Led Zeppelin. There was nothing like seeing "The Song Remains the Same" for the first time. That music had the perfect balance of muscularity, exoticism and just good songs. At the time, I hadn't heard music like Fairport Convention or Trees, but I was drawn to Zeppelin's British folk influences without realizing it. Mind you, I was 11 or 12, so I wasn't sure what I was hearing or what musical tradition it came from. But it left me rapt, and changed.
When did you first start making your own music and how do you feel you've developed as a songwriter over the years? 
I started writing at 15 and gravitating toward folk-rock late in my teens. Not because I necessarily preferred it over other styles. But I don't think we choose our preferred style as musicians; I think the style chooses us. I'd love to sing like Marvin Gaye, Paul McCartney or Prince, but I wasn't born with that kind of range. So in my case, I gravitated toward music that resonated best with the tools I was given.
Also, this was the mid-'90s, and in retrospect, it was a golden era for country and folk, with the advent of alt-country and artists like Wilco, Lucinda Williams, Old 97's and The Jayhawks. Even iconic and established artists like Emmylou Harris, Willie Nelson and Steve Earle were making career-defining albums at the time. So, I think that was formative. Incidentally, I think we're in a second or third wave of that style with some incredible music from singer-songwriters like Courtney Marie Andrews, Rhiannon Giddens, Michaela Anne, Nikki Lane — I could go on.
Your latest album "Goddaughters" is really incredible. What was the writing and recording process like? Any particular gear you used that really helped shape specific parts of the song?
That's amazing of you to say. Thank you.
It's a good question because "Goddaughters" was constructed with a totally different process than other albums I've made. The songs were inspired first and foremost by sounds. In other words, what melody would go well with this organ and this slapback reverb? What lyrics would make these Mellotron strings or this overdriven slide guitar complete? I don't usually write like that. I tend to start with a melody, a lyric and a chord progression in my head, then try it on guitar or piano. This was a different method of writing for me, almost backwards, and the byproduct was a spacious and dreamy-sounding album. I worked with producer, arranger and guitarist Gregg Montante on it, and he did beautiful work, as did Bobby Cressey, who played piano and organ on several tracks.
In terms of gear, the album is very much a Pro Tools creation, insofar as editing became its own instrument. We also used a lot of vintage recording-console, keyboard and guitar plug-ins, which was inspiring. But as strange as it sounds, the real sonic heart of the album is the organ. With the exception of maybe "Worshipers" and "Harmony Grove," every song was either written on an organ or made to feature an organ. It inspired music that was different for me — hymn-like and maybe existential in nature.
If you could do a score for any film director who would it be and what would the film be about? 
The dream scenario would be scoring for a series based on a David Mitchell or Emily St. John Mandel novel. I heard certain songs and textures in my head when I read "The Bone Clocks," "Utopia Avenue" and "Ghostwritten" by David Mitchell — that's in addition to the music he'd referenced in those books. And what HBO did with Emily St. John Mandel's "Station Eleven" was nothing short of stunning. I think anyone could get lost writing songs for a mini-series based on her other books, like "The Glass Hotel" and "Sea of Tranquility."
And, of course, you can't forget about Aaron Sorkin. It would be incredibly inspiring to write music for him. I get chills thinking about how they used Bob Dylan's "Saved" in "The Newsroom" — the episode about the blackout. Just unbelievable.
By the way, "Goddaughters" is sort of a concept album. I suppose most artists say that, although I think there's an emotional narrative to the album: seeking understanding in darkness — in this instance, probably influenced by the pandemic — and finding a sense of transcendence, redemption and, for lack of a better term, solidarity at the end. That could work for an indie movie, something involving hiking in the Sierras maybe. A really quiet indie movie with a really loud soundtrack.
What's next for you? Any new recordings/shows etc.? 
My last two albums, "Goddaughters" and "The Wine of Youth," were deliberately elaborate from an arrangement standpoint. The songs called for it. I'm in the process of writing the next album, which, at the moment, would be more minimalist. Lately, I've been inspired by the stripped-back sound of albums like Courtney Marie Andrews, "Old Flowers"; John Lennon, "Plastic Ono Band"; Jeff Tweedy, "Warm" and "Warmer"; and early Joni Mitchell and Dylan. Something more ghostly and intimate, where it's like the singer is singing right in your ear at the edge of the world.