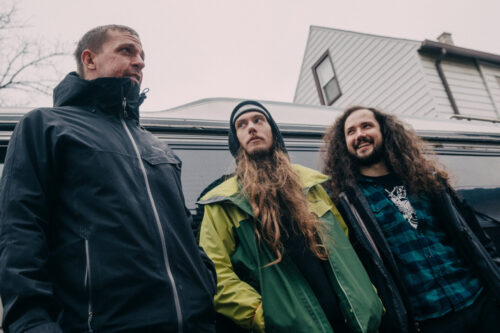 Chicago trio Oozing Wound have announced new album We Cater To Cowards, due out January 27th, 2023. Champions of irreverence, experimentation and unrelenting volume, We Cater To Cowards pushes the trio's sonic experimentation and scathing humor even further to produce their most daring and devastating album to date. Alongside the announcement, Oozing Wound have shared first single "The Good Times (I Don't Miss 'Em)", a track that grapples with the pitfalls of nostalgia and rails against a mainstream music industry that wants to repackage and sell our memories to us for profit.
Oozing Wound are both a subversive force in heavy music and key players in Chicago's vibrant DIY warehouse scene. Their albums gleefully defy categorisation, delighting in contradictions and delivered with self-aware humor that sets them apart from their peers. No one is safe from their scathing gaze, not even themselves. Self-described as "a rock-band wolf in metal sheep's clothing", this disparity has brought accusations of the band "not taking this seriously" in the deeply serious business that is entertainment. Beneath the blunt-force of the trio's music lies a deep-set dedication to sonic experimentalism. On We Cater To Cowards, Oozing Wound push their music further by turning metal into itself and with their scathing social observations they have produced an album that is devastatingly fierce and undeniably addictive.
Oozing Wound's self-deprecating humor on We Cater To Cowards reveals something surprisingly honest lurking beneath the veneer of nihilistic detachment. These heavy doses of unabashed honesty are less metal and in a myriad of ways closer to TAD, early Nirvana, and the heavier elements of the late 80's Seattle Sound. The result is a refreshing and exhilarating mutation of genres that sees Oozing Wound continue to forge their own distinct path in heavy music. As the band aptly put it: "we don't care about propriety or the sanctity of TRVE METAL or any of that bullshit." Thank God they don't. For those who care to dig a little deeper, We Cater To Cowards is a deeply rewarding, pummelling good time.