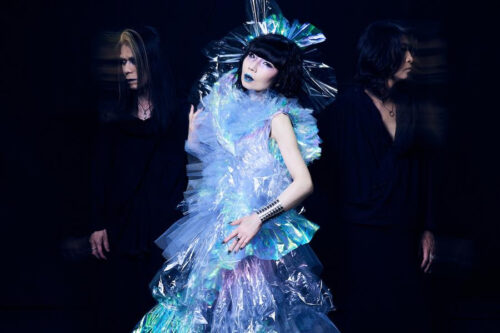 Boris release their latest artwork as an animated music video, a collaboration with award-winning director/animator Nalani Williams.
The animated work is a depiction of an expanded surrealistic world visualizing a song off of boris's most recent album, fade, which is the third album they released last year for their 30th anniversary as a band. The video is a work of art made using scrupulous frame-by-frame stop motion animation.
Squealing and warped by a tremolo arm, continuously surfacing and sinking, this is the world weaved from the composition titled "michikusa". Squirming through a beautifully hellish landscape made of skin and bone, mysterious beings battle for dominance in the never ending cycle of life and death… or perhaps in between.
The video imagery was made seamlessly with various techniques such as stop motion, hand-drawn animation and painting, conjures up a heteromorphic new world synchronizing with Boris, a band whose sound freely traverses genres.
Released digitally last December via Bandcamp, fade arrives on double LP format today. The deluxe, 180g vinyl release comes in pink and black variants with laminated gatefold jacket. The albums were manufactured by Third Man Pressing and released by fangsanalsatan, and are available for pre-order through Sacred Bones.
Informed by the massive sounds of drone metal, fade is "…not bound by concepts of rock and music in general, but could rather be said to be a documentary of the world plunged into the chaotic age of boris moving forward," the band comments.
They continue, "Break into the present, post-pandemic era. Memories of the world wrapped in disorder and uncertainty already bring feelings of nostalgia. Every individual was cut off from society, but now have returned as one.
Among that disorder like a primitive scenery, did you have fear? Did you doze off? Or in an extreme state of mind, did you even feel some comfort in the solitude?
Among that disorder, did you make eye contact with yourself, or did you not experience such a moment?
Now, wrapped in a thunderous roar, your whole body will be caressed on the way to awakening.
Morning comes."