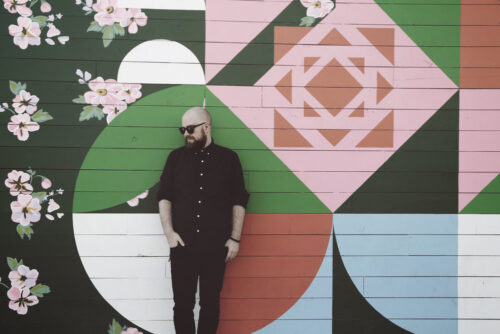 So-called Punk Rocker of ambient. NAAL is the postmodernist, minimal composition/drone project of Nashville based, award winning film composer Dave Mantel.
Their latest release ">momen_s."  is the result of Mantel's minimalist approach to the idea of "ambient" music. I sat down with Dave to talk about their early musical memories, how they have developed as a guitarist and the making of "momen_s.".
Discover all things Naal here. 
CMM – What was the first music that really made an impact on you as a child and what artist did you enjoy the most?
Dave – Music was always around me growing up. My parents were both musicians- my mom was a classically trained vocalist and my dad was a metalhead X'er who would absentmindedly play Queensryche every time he got his hands on a guitar. I know I had a lot of music given to me growing up- lots of kids music cassettes that would play while I slept (shouts out Joe Scruggs). But in like early 1998 I distinctly remember getting some free CD samplers in the mail, and one of them had the song Suckerpunch by a ska/punk band called Five Iron Frenzy. I listened to that song on repeat in my bedroom with my headphones on probably a million times. I hadn't ever heard music like that. Sometimes I think of my creative cortex as an artist like a power grid, and remembering the moment I heard that goofy song is like seeing the first of the many switches of that power grid moved in to the "ON" position.
CMM – When did you first start making your own music and how do you feel you've developed as a guitarist over the years?
Dave – I've played music from a pretty young age, but I didn't start playing electric guitar until after I was out of college. When I first started to write music as NAAL, my inspirations were bands like Mogwai, God is an Astronaut, ISIS, Pelican, Joan of Arc. Writing that music I was very preoccupied with melody, song structure, dynamics- essentially writing music in the same way I wrote singer/songwriter stuff in high school and college. But shortly after I started releasing music as NAAL I got to play a show with my friends Mike and Andrew from the band Hotel Neon- except at the time they were from a band called The Sound of Rescue. This show would be their first ever show as Hotel Neon. Anyway, I remember listening to that first Hotel Neon set and thinking, "Wow. I didn't know you were allowed to make music like this!" That night changed everything for me. Another switch on that creative power grid. I think hearing that music was like giving my brain permission to start thinking of song composition and guitar playing in different ways- much less orthodox ways. Now it's been almost a decade since that night, and I'm working on finding more of a balance of extremes, iterating on all the things I've been learning over the years from people like Mike and Andrew and the many other friends and collaborators I've been able to work with over the years.
CMM – Your latest album ">momen_s." is pretty spectacular. What was the recording process like? Any particular gear you used that really helped shape specific parts of the album? 
Dave – The idea behind >momen_s. started as a writing exercise. I had just finished working on some pretty large-scale projects and releases, and decided I wanted to flex some unused creative muscles by setting some hardcore (for me) limits for writing a few tracks. I didn't plan for them to be anything. I knew I wanted to keep them short (under 3 minutes), and use minimal (for me) gear. So I picked a Strymon El Capistan tape delay that I used as a looper, and a Chase Bliss MOOD that I used as a Surprise Box, sent them through a Strymon Iridium, and tried not to do too much to the audio once it was in my DAW. I used two guitars, my standard thinline telecaster I made from parts, and a resonator acoustic guitar I've had since college. And that's it! The writing process was a lot of experimenting with the ElCap's looper and finding fun sounds on the MOOD, trying to say something in less than 3 minutes, but also not to do too much. The result is what you find on >momen_s.
CMM – If you could do a score for any film director who would it be and what would the film be about?
I've been really in to the cyberpunk aesthetic recently. I'd love to make a cyberpunk film with Boots Riley starring Steven Yeun. I think that would be a radical project.
 What's next for you all? Any new recordings/shows?
Along with some upcoming collaboration projects with a few wonderful artists, I am starting an experimental, physical first project based around analogue recording of unique (1 of 1) cassettes. So a listener will be able to sign up and receive a unique cassette tape from me containing two long form compositions (A and B side) that were recorded straight on to the tape from my guitar, along with some fun packaging that includes the physical prompts used to write the songs. Early 2023 will also finally see my 2020-2021 project called Phases get a release as a complete collection, with a few bonuses that I hope fans of that project will enjoy.