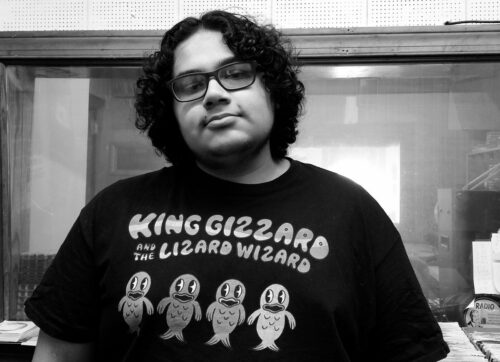 Fidel Vasquez, a.k.a Giant Bird, is an independent solo artist based in Siler CIty, North Carolina.  Their latest E.P. "Lucid" combines excellent songwriting with fuzz driven riffs and layers of lush atmospherics to create a whirlwind of cosmic sounds. 
I sat down with Fidel to talk about their early musical experiences, when Giant Bird began and the making of "Lucid" which you can get here.
CMM-What was the first music that really made an impact on you growing up and what artist and bands did you enjoy the most? 
Fidel-It's really a variety of things. My best friends had a huge impact on my music taste. When we were in middle school they introduced me to a lot of emo and post hardcore stuff like Crown The Empire, Pierce the Veil, The Amity Affliction, and so on. They also got me really into Slipknot. A lot of those bands I don't really listen to anymore, but these bands made me appreciate aggression and raw emotion in music. Around this time I got really into a band called The Front Bottoms and they were my favorite band pretty much all throughout high school. I fell in love with the looseness of their music. I still really love their album "Talon of the Hawk." They definitely made me want to be a lot looser with my music. Nowadays the main bands that really inspire me are King Gizzard and the Lizard Wizard and Ween. I absolutely love the way they explore different sounds and just have fun with it. Ween especially has an amazing ability to make you laugh, and then make you have an existential crisis. King Gizzard's music just makes me happy. I love every song I've heard from them. They're probably the band I take most of my inspiration from sound wise.
CMM-When did you first start playing instruments and what led you to making music as Giant Bird? 
Fidel-I got my first guitar in high school. I believe it was when I was a sophomore and I had finally convinced my parents to get me one because there was a guitar class at my school. At the time, there wasn't a second guitar class, so I pretty much got one semester to learn guitar. For a while all I really knew were a few chords, the guitar solo from "Bulls In the Bronx" by Pierce the Veil, and the main riff from "Come As You Are" by Nirvana. This was in like 2016, and I never really played much guitar again until a little before COVID started. Sometime in 2019 one of my close friends showed me "Come Together" by The Beatles and it made me curious about classic rock music as it wasn't something I was very familiar with. I ended up becoming obsessed with so many bands like King Gizzard and the Lizard Wizard, Ween, Butthole Surfers, Hawkwind, and other weird and energetic psych bands and it led me to want to play more guitar and now my guitars are something I couldn't live without. I also absolutely love funk. Funkadelic, Con Funk Shun, Donald Byrds jazz funk albums like "Places and Spaces" are a huge influence on me, especially in my bass playing. I also love when Ween gets funky. I've spend to much time listening to "Voodoo Lady – Live in Chicago."
CMM-Your latest E.P. "Lucid" is a really amazing record. What was the recording process for making the record like?  Any particular gear you used that really helped shape specific parts? 
Fidel– My recording process is really dependent on how I'm feeling at the time. If I remember correctly, the first song I made from "Lucid" was "Hungover Again." I wanted to write something slower than usual because I was listening back to my song "Boulder by the Pond" and wanted to write another song that was slow and personal. At the time I was playing around with my Korg Volca Keys a lot and that led me to make all of the songs a bit poppy because I liked the sound. The second song I made was "Paranoia." I love to crank up the mid and treble on my guitar and then use a TC Electronic MOJOMOJO pedal with the distortion set fairly high and sometimes add some more gain from my Boss Katana MKII for some more texture. That's pretty much the tone I used for the guitar on "Paranoia" and "Blind Dog" with some tweaks here and there. Lyrically I talk about a lot of personal stuff in each song. Paranoia is something I actually have struggled with my whole life. Growing up I pretty much always have nightmares and am a generally anxious person. I've spent a lot of time being scared of everything and being paranoid that something bad is going to happen. It's something I'm trying to work on to this day. "A Different Hue" was a song I wrote about how comfortable my girlfriend makes me feel. I've never had someone understand me the way she does. "Blind Dog" is about my dog named Munchy that went missing last year. He had cataracts so he couldn't really see anything. One day he managed to walk off and he just vanished. Coping with that has been really tough and I wrote "Blind Dog" as a way to kind of cope with it. I was tired of sulking about it and wanted to just make a song dedicated to him.
CMM-If you could compose a score for any film director who would it be and what would the film be about? 
Fidel-I am really into a lot of horror films. I would honestly be okay with making a soundtrack for any horror movie. It's something I've really considered doing and I've already started working on some ambient stuff just for some practice. If I had to pick a director it would have to be Ari Aster. I absolutely love how atmospheric his movies feel, If that makes sense. I would absolutely love to try and make something as atmospheric and terrifying as his movies.
CMM-What do you have coming up next? Writing or recording anything new?
Fidel-I actually have a lot of stuff I'm working on. I've been procrastinating a little bit on them recently, but I have a really psychedelic and trippy hip hop project in the works, as well as a project that is heavily influenced by hardcore punk. My song "Blind Dog" was actually originally part of that punk project, but I felt like it fit with the other songs on "Lucid" a lot better. Oh, and I'm also working on that ambient thing I mentioned before. I only have one ambient track done at the moment, but it's very possible I'll end up making a full ambient album or EP of some sort.