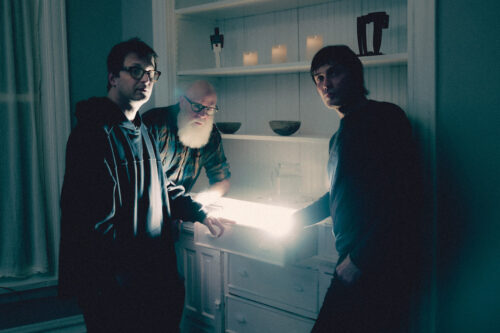 Black Duck, the trio of guitarist/bassist Douglas McCombs (Tortoise, Eleventh Dream Day, Brokeback), guitarist Bill MacKay, and drummer Charles Rumback, are announcing their debut self-titled album Black Duck, out June 23rd, 2023. Along with the album's announcement, the trio have shared their first single, "Of the Lit Backyards". The piece, written by McCombs, was composed as a meditation on the adaptability of human beings, turning the glow of newly reconfigured outdoor spaces safer to gather in during lockdowns into swaying western Americana.
Black Duck brings together three pillars of the Chicago music community, known for their work with like-minded artists from Ryley Walker to Jim Baker and beyond. In the short time the trio have played together, they have performed at Big Ears Festival and alongside acts like Yo La Tengo. The trio's self-titled debut album Black Duck harnesses each player's capacity for poignant songwriting and improvisational exploration in pieces as far-reaching as they are arresting.
Black Duck is a gallery of sonic tapestries, unbound by any genre constraints while also utilizing genre touchstones. Challenging what a trio of two guitarists and a drummer can do, pieces move from breezy shuffles to stormy blues rumbles to gorgeous textural drones. Playing entirely improvised live sets for years helped develop the trio's acute senses for one another, knowing precisely how to listen to the others and bolster whatever direction they move in. Steeped in each other's voices, Black Duck entered the studio with engineer/producer John Hughes III with only three tunes written prior, one by each member, and the remaining pieces took shape much as their live performances, improvised on themes or simple motifs.