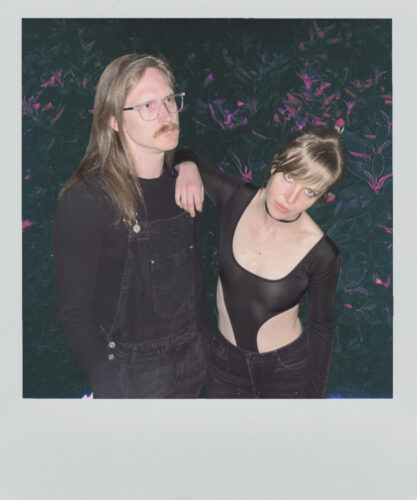 Slender Dan is an indie-electronic duo based in Nashville made up of Heather Dickson and Patrick Ahern. The duo's latest album "GESTALT" is made up of 19 highly infectious tracks that takes you through a colorful journey led by pulsating beats and hypnotic synths.
I sat down with Heather to talk about their early musical experiences, how they started creating music together and the making of "GESTALT" which you can get here.
CMM-What was the first music that really made an impact on you all as kids and what artist or  band did you all enjoy the most? 
Heather-Patrick's love of rhythms comes from being introduced to the drums at a young age. Drummers/songwriters like Fela Kuti, Billy Martin, Mark Guiliana, and producers/artists like DJ Shadow, The Postal Service, Wu-Tang Clan, Aphex Twin, etc played an important role in shaping his musical tastes.
I really loved (and still love) boundary pushing artists like Bjork, Fiona Apple, David Byrne, Jewel, The Beatles, David Bowie, Sergei Rachmaninoff, Igor Stravinsky, Alberto Ginastera, and Frederic Chopin. I grew up training to be a classical pianist, and though I love the traditional art form, I was so inspired by the artists that took their instrument outside of its element.
In Slender Dan, we love doing things like turning a vocal into a synth, using an odd sound in a beat, etc. I think our early listening really informs these choices.
CMM-When did you all first start playing instruments and eventually playing in your own bands and how did you all meet and start Slender Dan?
Heather-Patrick started playing drums at age 9 and started making electronic music at 15. He has been playing, and producing bands ever since. My parents put me in classical piano lessons at age 5, but I told them the only way I would continue is if my dad taught me to play guitar. He agreed and since then I've played guitar/bass/keys/vocals in a number of bands.
Patrick and I were in a band in Seattle called Tiger Rider. During the covid lockdowns, he asked if I would take a listen to some of his electronic music he had recently made and I immediately started hearing melodies over the tracks. So we got to work putting lyrics to said melodies and the band began.
One of the early tracks had the working title Slender Dan (a play on Slender Man) which we liked so much we decided to make it the name of the project.
CMM-The group's latest album "GESTALT" is really inspiring to me. What was the recording process for making the record like? Any particular gear you all used that really helped shape specific parts? 
Heather-Thank you! We started writing in Seattle and tracked everything in our basement studio. Then once we moved to Nashville we set up our new basement studio and finished it up. Some of the songs came together relatively quickly while others needed to be reworked and wrestled with until we got them to a place we were happy with.
Gear-wise, we have a lot of fun experimenting with different instruments and plugins. One of our favorite plugins is Little AltarBoy by Soundtoys, which made it on almost every track whether it was applied to the vocals, synths, drums, or guitars. We also did a fair amount of experimentation with how we played the instruments. For example, at the end of Mind At Large we bounced pens on a guitar to play that trem-picked part that sounds a little more orchestral and ambiguous.
The things that make this album special for us are the sampled quotes and the unconventional rhythms. We tried experimenting with avoiding the western "backbeat" for about half of the tracks while still trying to remain accessible to listeners.
CMM-If the band could do a score for any film director who would it be and what would the film be about? 
Heather-We're heavily influenced by film composers like Johnny Greenwood, John Williams, Hans Zimmer, and Ludwig Göransson. We'd love to work with Christopher Nolan, David Fincher, or Paul Thomas Anderson. The way they use music in their films is so powerful and we'd love to be a part of that process someday. The film would likely be a modern remake of 1984, Brave New World, or They Live.
CMM-What do you all have coming up next? Any new recordings/shows. 
Heater-We're excited to release the music videos that accompany GESTALT. We made 12 music videos and 3 lyric videos that we'll start rolling out soon. As far as live shows go, we initially started this band as just a recording project but the more we discuss it the more we want to do it live. It would probably require a few more hands on deck to play some of the parts with us or manage the visual elements we have planned, though. So if anyone is reading this and likes the music, reach out.