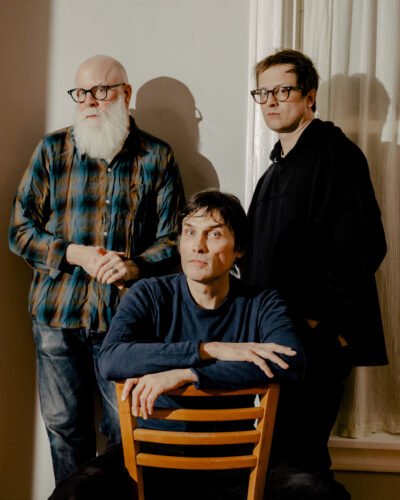 Thrill Jockey is excited to announce the signing of Black Duck. The Chicago trio consists of three pillars of the city's music community: guitarist/bassist Douglas McCombs, guitarist Bill MacKay and drummer Charles Rumback.
McCombs is known for his work in Tortoise and Brokeback, as well as for his project Brokeback and as a touring musician for the likes of The Sea and Cake and Chris Forsyth, amongst many others. MacKay and Rumback previously played together in Darts & Arrows and have each released collaborative albums with Ryley Walker. MacKay is a sought after sideman and collaborator and solo artist, performing with and alongside the likes of Bill Callahan, Bonnie Prince Billie and Steve Gunn as well as releasing collaborative albums with Nathan Bowles and Cooper Crain (Cave, Bitchin Bajas). Rumback is a singular improvisor and mainstay of Chicago's experimental jazz community, often blurring the lines between jazz, folk, and rock with his versatile playing.
Black Duck will be releasing their debut album this summer, alongside a series of shows planned for later this year.