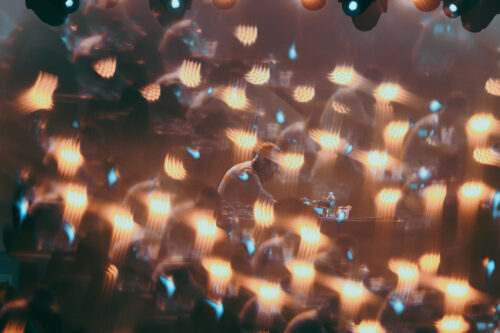 Mercet is the musical project of Sai Boddupalli. Filled with inspiration from film scores, contemporary classical music and 90s IDM, Mercet is meditation music for the dance floor. I sat down with Sai to talk about their early music experiences, how they started making music and the making of their latest E.P. "Dance Contest For The Smokers" which you can get here.
CMM-What was the first music that really made an impact on you as a child and what artist did you enjoy the most? 
Sai-I was fortunate to grow up in a musical family, so some of my earliest memories are connected to different sounds and songs, mostly South Indian classical or devotional music. When I was around 8 or 9 years old, I became more aware of modern pop and rock music through MTV and the radio — the first music video I can remember watching (with deep concentration) was Intergalactic by the Beastie Boys. Shortly after, I found Kid A by Radiohead on CD at my local library, and also made my older sister check out Rage Against the Machine's self-titled album for me, as I was so curious about the cover. Those two albums were like hearing music for the first time. A few years later, when I started playing guitar, Is This It by The Strokes became my guiding star, and I would say that kicked off a long and intense concentration on guitar-driven music, with them being at the forefront of my listening.
CMM-When did you first start making your own music and how have the sounds you've been creating evolved over the years? 
Sai-Growing up in Northern California in the early aughts, skate culture and music were at the forefront of what was cool, and I was lucky enough to grow up on a block with other kids that were my age to explore with. We decided to start a band after my friend across the street got a drum kit and a guitar, and I initially started out trying to learn the drums before he decided he'd rather be the drummer instead, so I got kicked off the kit. A few weeks later, he gave me the guitar that he had (a furniture store Strat knock-off), and it was an immediate fixation for me, which has continued ever since.
Ever since then, the music I created was mostly in a collaborative band or ensemble setting. Shortly before the pandemic, I was asked to produce a record for the group Really From, a band that I had played in previously, and ended up rejoining shortly after the album was released in 2021 — it was an amazing challenge for me at the right time, and I ended up doing more production and engineering for that record than I initially thought I was going to have to, due to the quarantine. At the same time, since I was unable to make and perform music in a collaborative setting, I started to delve more into solo electronic music and production, which is how Mercet was founded, and I've continued to explore ever since.
CMM-Your latest e.p. "Dance Contest For The Smokers" is such an amazing record. What was the recording process for making the album like? Any particular gear you used that really helped shape specific parts? 
Sai-First, thank you for those incredibly kind words! I am still so amazed when somebody takes time to engage with the art I have created, it means so much to me.
A big challenge for me has been translating the tracks I'm making on a computer to a live performance setting, primarily coming from band settings where we would play live and tour very often, but also due to making a lot of this music in a time where shows weren't happening. Another challenge is that electronic music often doesn't have an obvious live "answer," as bands often do, since the sounds and instrumentations of each track can be wildly different. I went through a few different iterations of a live set that was focused on music from my first album, VIMS, and played a couple of shows using one setup that had a computer on stage with me. However, I wasn't totally satisfied with the lack of flexibility, and the actual performance element of what I was doing.
Dance Contest for the Smokers came about when my friend Dev (also known as the artist Pink Navel) asked me on January 24th to perform at a residency they put together, called Knobs, on February 8th. It was the perfect impetus to try a new setup without a computer, but also to create new tracks to play. The three instruments used in the setup were an Elektron Digitakt drum computer (handling drums and percussion), a Sequential Pro-3 synthesizer (melody or bass, depending on the track), and a Roland SP-404mkII sampler (as a stereo sample playback device), which I had gotten a few days before Dev asked me to play at Knobs. It was a borderline manic sprint to create these four tracks from scratch in 15 days, while learning how to use the SP-404mkII, but I am incredibly grateful that I was given the push to make it happen. The combination of a hard deadline to create 30 minutes of music, as well as the limitation of not being able to meticulously edit and obsess over the placement of every note and sample, was exactly what I needed.
A few days after the show, I listened to a recording of the set and realized that I wanted to put these tracks into the world, so I sat down and recorded each of them. I went back and edited/mixed the tracks after recording, but the release versions are almost exactly how they were performed live on February 8th, minus some extended outros and live sampling performance. The music is more heavily sample focused and less ambient than some of my other tracks, which is an exciting avenue for me to explore.
CMM-If you could do a score for any film director who would it be and what would the film be about?
Sai-What a fantastic question! I am a huge fan of German directors, producers, and writers Jantje Friese and Baran bo Odar — Ben Frost's score for their television show Dark is one of my favorites of all time. I love their use of time loops and science fiction themes in both of their shows, and would love to see a feature film from them.
CMM-What's next for you? Any new recordings? Playing any shows? 
Sai-This Spring will be an exciting one — I'm playing a show with Emperor X and Pink Navel at O'Briens in Boston on March 27th, where I'll be doing another live electronic set (hopefully with new material again), and have a couple of DJ sets coming up in April that I'm excited to announce!