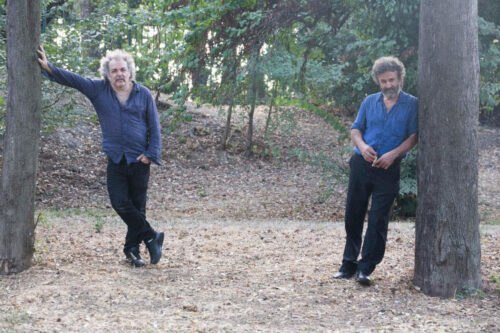 The Forest In Me, the forthcoming LP from Xylouris White, is actually the work of a musical triumvirate: Giorgos Xylouris and Jim White, of course, as well as their long-time producer, Guy Picciotto. Recorded in isolation in 2020, the trio conjured cinematic sounds while physically remote from each other, yet these songs were constructed with a unique psychic connection unbound by location. Giorgos recalls "…every note, every phrase, every instrument came from in and around our inner forests. No spoken or sung language, just subtle structures that ebb and flow through impressions, moods and abstraction."
"Long Doll," the latest single from The Forest In Me, is music for a day we'd not anticipated – one of lightness and unimaginable solitude, as the world comes wholly into view. Episodic, impressionistic and ambient, the percussion-less, all-stringed affair finds George's Cretan Lute rising up from from the depths, sparkling bright and spare, it's folksy qualities almost banjo-like, with rests so calm, you're likely to hear the sound of someone's breath (as well as your own).
Keep on listening, dear Xylouris White-Heads! Feast your eyes on the video for "Long Doll", directed by Lisa Little & Dee Hannan, and discover The Forest In Me on April 14th.