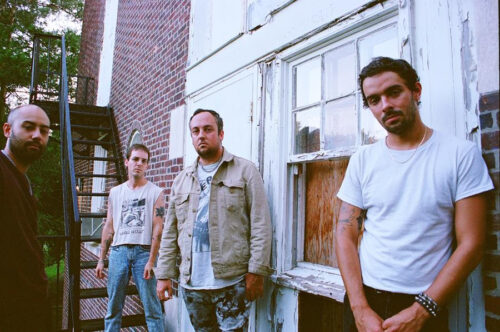 Poison Ruin have released their latest single "Resurrection II" – a cathartic tale of the undead rising to take revenge upon those who have unknowingly wronged them. It's full revenge fantasy with melodic rocking, equally split between surf motifs and new wave of British Heavy heavy metal riffing.
While they share a certain affinity for rough-around-the-edges, lo-fidelity stones with their compatriots Devil Master and Sheer Mag, Poison Ruin wants things bleaker. The up-tempo guitar heroics of their first two EPs (which were collectively released as a S/T LP in February of 2021) have been dragged through the trenches, emerging as a heavy morass of breathless gloom. With Harvest, Poison Ruin have constructed a richly chilling fable out of modern living. Their tale is as lurid as it is seductive, as much a promising fantasy as it is a dreary portrait of reality itself.
Poison Ruin's Relapse debut, Harvest was mastered by Arthur Rizk. It sees its release on April 14 alongside the reissue of their eponymous 2021 LP which has established the band as one of punk and the underground's newest beloved treasures. Poison Ruin will tour extensively this year. They're currently touring across the Southwest and hit SXSW next week, plus NYC and a hometown PHL release show. In April they head overseas for a full EU / UK run including a performance at Roadburn. See below for a full list of dates.
Poison Ruin Live Dates:
Mar 09: Tulsa, OK – Whittier Bar
Mar 10: Albuquerque, NM – Sister
Mar 11: Tempe, AZ – The Beast
Mar 14 – 18: Austin, TX – SXSW
Tue, Mar 14 – 2:00 PM: SESAC/HFA/Rumblefish @ Side Bar
Tue, Mar 14 – 9:45 PM: @ Hotel Vegas
Thu, Mar 16 – 2:45pm: Brooklyn Vegan @ Empire
Fri, Mar 17 – 2:00 PM: Creem @ Chess Club
Fri, Mar 17 – 4:30 PM: Post Trash @ Hole in the Wall
Fri, Mar 17 – 10:00 PM: SXSW Official Showcase @ Chess Club
Apr 13: Philadelphia, PA – Johnny Brenda's
Apr 15: Brooklyn, NY – Meadows
Apr 18: Antwerp, BE – Antwerp Music City
Apr 19: Tilburg, NL – Roadburn
Apr 20: Hamburg, DE – Komet
Apr 21: Leipzig, DE – ZxRx
Apr 22: Berlin, DE – Urban Spree
Apr 23: Prague, CZ – Underdogs Ballroom
Apr 25: Vienna, AT – Venster99
Apr 26: Linz, AT – Kapu
Apr 27: Zagreb, HR – Attack!
Apr 28: Bologna, IT – DEV
Apr 29: Parma, IT – Splinter Club
Apr 30: Innsbruk, AT – PMK
May 02: Geneve, CH – La Makhno
May 03: Marseille, FR – Molotov
May 04: Bilbao, ES – El Nido
May 05: Madrid, ES – Wurlitzer Ballroom
May 06: Barcelona, ES – Sala Vol
May 07: Toulouse, FR – Le Ravelin
May 09: Bristol, UK – Crown
May 10: Manchester, UK – The Gulliver
May 11: Glasgow, UK – The Old Hairdressers
May 12: Newcastle, UK – The Lubber Fiend
May 13: London, UK – New River Studios
May 14: Portsmouth, UK – The Loft
May 16: Paris, FR – Le Klub
May 17: Kortrijk, BE – The Pits
May 18: Nijmegen, NL – De Onderbroek
May 19: Nurnberg, DE – Projekt 31
May 20: Dresden, DE – Over The Edge
May 21: Weimar, DE – Gerber 3