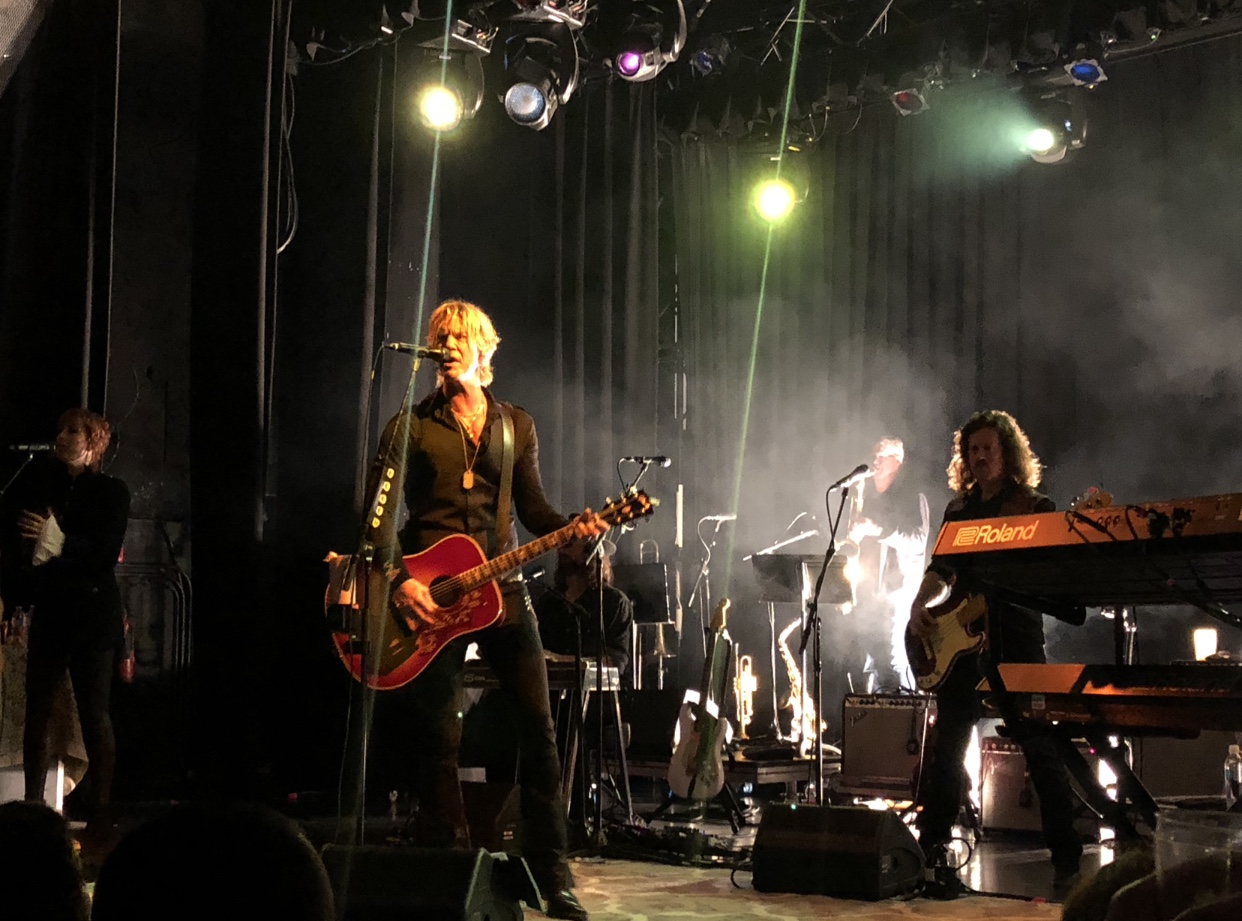 Twangy chords and a genuine Southern Rock overtone, enriched the air as I stepped foot onto the lush red carpet of the iconic El Rey Theatre.
Jennings center stage breaking it down and making you wanna shake it with his classic Country Boogie. All the while flaunting "Shooter" bedazzled in rhinestones on his black guitar strap with glistening beads of sweat running down his brow to match. Once his set was over, he thanked the crowd as we roared. He walked off stage as the lights dimmed and the crimson chandeliers glowed, taking a break before joining McKagan in the next set.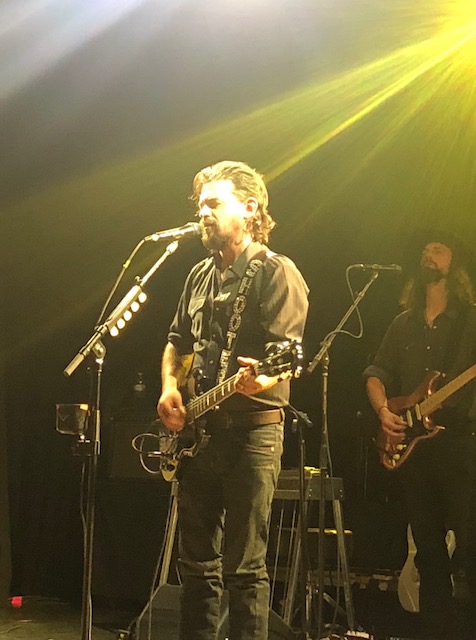 The crowd consisted of Guns N' Roses fans from far and wide, those quintessential looks of Glam Rock as well as cowboy hats but not all were embellished with cheetah print and studs!
Mingling while anticipating Duffs appearance, making eye contact with the bassist as he walked through to get a refreshment and catch up with friends. Then before you know it it was time! The stark blonde rock star graced us with his presence. Starting out with his newest albums name sake "Tenderness". After the first song he took a moment to give us all the feels, as an intro to the song "Feels"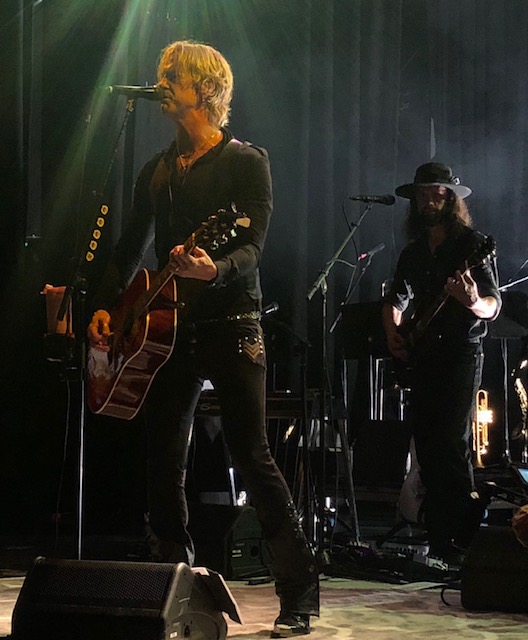 In tearful remembrance of his friends, fellow music legends who tragically left this world in the recent few years. The first name he mentioned was Scott Weiland of Stone Temple Pilots. Ironically, I had just been talking about Scott, not even 15 minutes prior to this during the set break. About how special it was to see one of the last local shows he performed while touring with his band the Wildabouts. How his loss resonated with me in a strong way and who could have ever known that there would be so many names to follow.
Duff proceeded to thank Prince, Chris Cornell, Chester Benington and all of their children and wives for continuing to stay strong. He goes on to say "I love you Susan" to his wife and thanks her for staying with him through some seriously "thin shit". McKagan knows first hand about the dark places the mind can take someone and just how fragile this life is. "Keep fighting, the world goes on and then you're gone." He says, also acknowledging that Rock n' Rollers have each other's backs the most and gives a big "Thank you, we are the people!" To the crowd.
Addressing a few hard hitting subjects such as the gun violence in America, the homeless epidemic, drug abuse and the "Me Too" movement. Duff asked only the gentlemen in the audience, "If we see someone touch a woman in the wrong way we know exactly what to do, right gentlemen?" Making it clear that it's appropriate to protect and stand up for not only the women that you love but for all. "We're all equals!" His six string guitar in hands he yells out, "It's not too late." as a continuation of the message but also as a cue to the next song and puts an emphasis on not focusing our attention on the media. I reckon that Lukas Nelson will appreciate that last one. Turn off the news mother fuckers!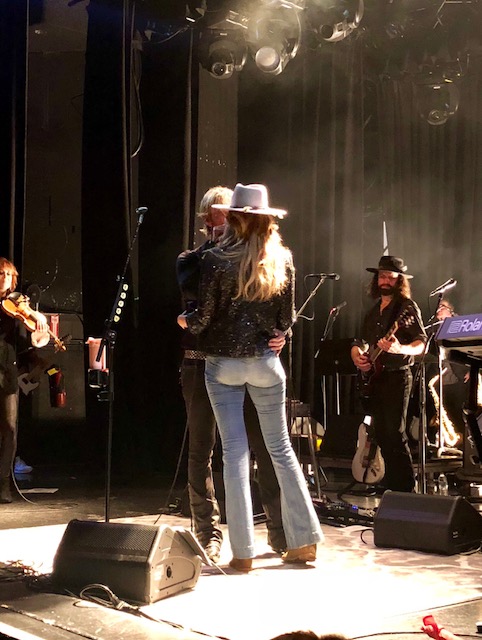 Duff getting loose off of what we can safely assume is an herbal tea he's been sipping from an environmentally friendly pink ceramic mug that has a set of tiny rubber legs playfully folded over the lip. Imaginatively like those of Lili St.Cyr kicking bubbles out of a glass bathtub during a burlesque show. The original martini vixen.
He keeps our attention by saying "OK! My baby daughter is in the crowd tonight!" Pointing directly towards me but only to shine light on a group behind me in a red corner with red chairs and red velvet ropes… The VIP section. He walks to the side of the stage takes someone's hand and pulls a tall blonde from the darkness. It's Susan his wife. They dance closely while he sings "Wasted Heart", plants a long wet kiss on her lips after the chorus then walks her back to the shadows.
Tame tender rock ballades, mildly reminiscent of the days of hair metal. Including a healthy dose of country and outlaw rock, they roll out strong! Duff finishes with the words ,"With my baby!" Puts his hands up and then reaches down to share a fist bump with a stoked audience member……. ROCK ON!
Nicole McGrath
Contributing Writer