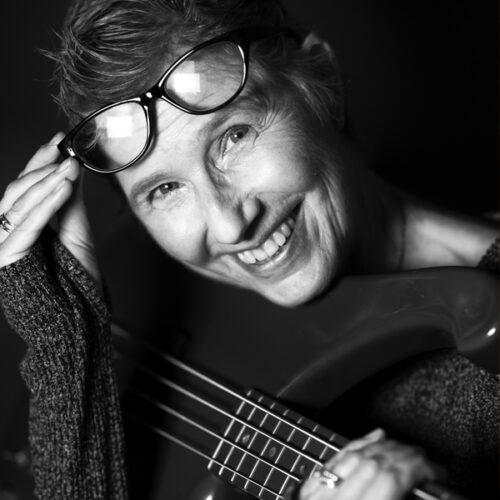 Most conversations about Kira tend to start with her formidable history in punk rock, and her time playing in Black Flag which is understandable, but it's really just a portion of the big picture. Says the artist herself, "Bass player first and foremost – this is just who I am. Then a sound editor, dog mom, loving wife and loner." Kira recently released a solo album on Kitten Robot Records . Reflecting on her current musical process she says, "these days most of my music is created alone in my room and then fleshed out with tasty additions from close friends I request virtual musical bits from. Then, to Kitten Robot Studio where my loving brother and co-producer Paul Roessler helps me polish each song. The goal is simple – express my inner essence and hope that others might feel a bit of their own by listening.". Kira talks about some of her favorite songs in this weeks edition of "Five For Friday" but first take a listen to her song "The Ghosts" from here new solo album available here.

Billie Holiday "I Don't Want to Cry Any More"
My longtime love of Billie holiday started with a cassette called Music for Torching. This song became one that I have sung for myself repeatedly through all these years since junior high when I first heard the cassette.
Black Flag "My War"
if there were any song that told the story of how punk rock spoke to me it would be this song. The palpable rage that this song embodies has always been present for me.
David Bowie "Wild Is The Wind"
There are many Bowie songs that could have made this list… but this one captures his amazing talent using his voice to tell us all we needed to know about love. My husband and I chose this as our first dance.
Selena "No Me Queda Mas"
My fascination with several Latina singers started with Selena, and included early Shakira and also Albita, a singer from Cuba with a salsa flair. But when Selena's life was cut much too short I chose this song to cover as a way to honor her.
Billie Holiday "Gloomy Sunday"
when I heard this song it was not hard to believe that it had been written as a suicide song… Billie's version was supposedly banned from the BBC in 1941 because it would hurt morale. But just as the devastating song can hurt us, it can somehow soothe us too I think. It embodies what I think music should always do – make you feel something.