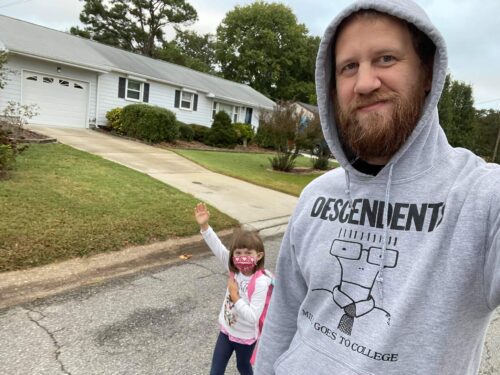 Demons was started by longtime Mae guitarist Zach Gehring and draws inspiration from groups like Metz, Gulch, Converge, and Propagandhi. When it comes to heavy, no-frills, hardcore punk, it's hard to match the drive and intensity this four-piece brings to the table on their latest album, "Privation." The band will be heading out on a short South East tour next week that includes an appearance at Fest 19 in Gainesville FL. Zach talks about some of his favorite songs in this weeks edition of "Five For Friday" but first check out the video for Demons "Play Acting Virtue".
Converge – Heartless
You Fail Me is my favorite Converge record, and this song is my favorite from that record. Kurt and the band have an instinct for a heaviness. It never sounds like the heaviness is intentional, gimmicky, or a comfort relied upon to make up for lack of creativity. It's always sounds fresh, it breathes -and I think is, in part, what makes them unique. I love their fast songs, and I love when they give us groove as well — this track has both. This song is everything.
Show Me The Body – Not For Love
This is one of my favorite bands of the last two years. Super heavy, and I think they have this slight hiphop element in their music. In a strange way they remind me of Rancid…but they don't sound anything like Rancid. Maybe it's the vocal delivery. This song has a super cool groove and at the 1:43 mark, it levels up and I'm just blown by the end of it.
Open Mike Eagle – WTF is Self Care
My brothers in Demons turned me on to Open Mike Eagle and I immediately fell in. He has a relaxed delivery, great beats, and I think his lyrics are unique in the hip hop world (however, that might only expose my lack of knowledge about the genre?). I am puzzled, and skeptical, of the marketing and blow up of "self-care" in recent years, and I can't help but be bit cynical at how it's portrayed now considering its roots in Black Feminism. I'm not suggesting he is hinting at anything political on this track, but that's how I hear it. It's humorous, but for me, also speaks to something more critical.
Lucy Dacus – Cartwheel
Dacus's new record is my favorite of the year. The sound of her voice, the words, and the music on this record hits just right. It mostly revolves around two chords and you're pulled along by the melody and words. I never want it to end. I want to hear more verses, more of her words. I listen to this one over and over again.
Nina Simone – Love Me or Leave Me
This song is so satisfying and I never tire of hearing it. It displays Simone's no bullshit attitude, her sadness, as well as her expert ability to mesh classical music and jazz. I love the walking bass line behind her piano solo. It's all so masterful. This song stopped me in my tracks when I heard – specifically the long piano solo. It's arresting.