Sunn O))) are pleased to present an enhanced version of the Sunn O))) Life Pedal Octave Distortion + Booster, in collaboration with their comrades at EarthQuaker Devices. The Sunn O))) Life Pedal circuit has been meticulously tweaked from the original to squeeze every last drop of heavy crushing tone available. The octave section has been fine tuned to make it more pronounced without losing the bottom end and a third foot-switch has been added, utilizing Flexi-Switch Technology®, for the octave to allow an additional method of quick and radical tone shaping.
To commemorate the launch, Sunn O))) is offering a limited-edition White & Black colorway available exclusively on their Bandcamp page. This colorway is available only from the band and includes an exclusive 5.75″x2″ Sunn O))) Life Pedal v3 woven patch.
"I'm super stoked to have this pedal back in our line!" says EarthQuaker founder, president and designer Jamie Stillman. "We put in a lot of hours dialing this one in and I'm very proud of the final product. Sunn O))) is such an iconic band and I'm thrilled to be part of their legacy."
EarthQuaker CEO Julie Robbins agrees. "It has been an honour and privilege to collaborate with Greg and Stephen on the SUNN O))) Life Pedal. We are so excited to give this special pedal a permanent place in our line."
In the writing sessions for Life Metal, Stephen & Greg worked extensively shearing their tones toward a broader energy spectrum over high powered saturation and across planes of sonic character, with the ambition to take full advantage of recording engineer Steve Albini's exacting capture skills.
The results are astounding: there is breadth and luminosity of color, vast sonic cosmoses, flashes of abstract color (synthetic and objective) through resulting themes which emerged from the mastered depths of saturation and circuits between the two players and their mountains of gear.
"We set out to create something that was unique and had its own distinct character to it. The result combines different distortions and achieves different shades of saturation that we were actually doing in the studio," says Greg Anderson. "I'm extremely happy with this pedal. It's an integral part of my tone and it holds an important place in my pedal chain."
"Working on this new version has been a great continuity of this collaboration which feels so right, and sounds so right," says Stephen O'Malley. "It's a really beautiful pedal and it's also a beautiful art collaboration. I think we made something really interesting that people can enjoy to use for their own music, but also, it makes a lot of sense to release a piece of distortion as a release for our band. We're really happy that this is a trilogy now."
The Sunn O))) Life Pedal is designed to represent the core front end chain used in those sessions, to drive the tubes of the band's multiple vintage Sunn O))) Model T amplifiers (or take your fancy) into overload ecstasy. This is a 100w tube amp full stack's holy dream – or its apostate nightmare.
An octave fuzz inspired by the Shin-Ei FY2 & FY6 units leads the circuit into a brutal big box rodent inspired distortion, recreated with the best components, and including a three-way clipping switch (OpAmp, Asymmetric & Symmetric). Second stage is a purely clean boost to further overdrive the preamp tubes of your vintage system into -scaped harmonics, and feedback overtone bliss.
Chasms are cleared, mountains sheared, glaciers calved, nova-birthed. Vintage valve amplifiers recommended. We hope you transcend.
TECH SPECS:
Sunn O))) Life Pedal is a distortion with a blendable analogue octave up and a booster
Features 3 different clipping options: Symmetrical Silicon, Asymmetrical Silicon & LED, and pure OpAmp Drive
Distortion and booster can be used independently
Expression and footswitch control over analog octave up
Octave blend allows total control over how much Octave is mixed into the circuit
True bypass with silent relay based soft touch switches
Features EarthQuaker Devices' proprietary Flexi-Switch® Technology
Lifetime warranty
Current Draw: 15 mA
Octave Distortion: Input impedance: 1 MΩ / Output impedance: <1 kΩ
Booster: Input Impedance: 500 kΩ / Output Impedance: <1 kΩ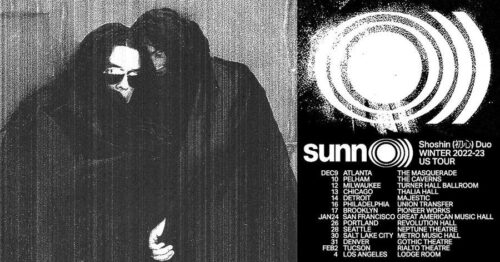 See Sunn O))) core members Greg Anderson + Stephen O'Malley on tour this winter as Shoshin (初心) Duo:​​​​​​​
December 9  Atlanta, GA @ The Masquerade [tickets]
December 10  Pelham, TN @ The Caverns [tickets]
December 12  Milwaukee, WI @ Turner Hall [tickets]
December 13  Chicago, IL @ Thalia Hall [tickets]
December 14  Detroit, MI @ Majestic Theatre [tickets]
December 16  Philadelphia, PA @ Union Transfer [tickets]
December 17  Brooklyn, NY @ Pioneer Works [tickets]
January 24  San Francisco, CA @ Great American Music Hall [tickets]
January 26  Portland, OR @ Revolution Hall [tickets]
January 28  Seattle, WA @ Neptune Theatre [tickets]
January 30  Salt Lake City, UT @ Metro Music Hall [tickets]
January 31  Englewood, CO @ Gothic Theatre [tickets]
February 2  Tucson, AZ @ Rialto Theatre [tickets]
February 4  Los Angeles, CA @ Lodge Room [tickets]