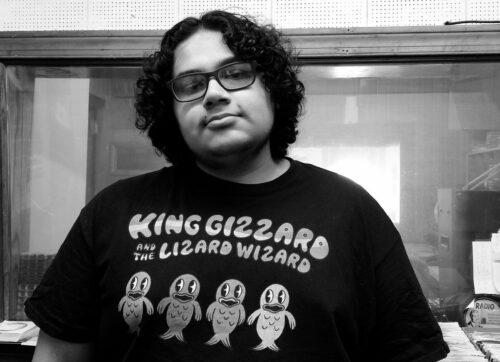 Fidel Vasquez, a.k.a Giant Bird, is an independent solo artist based in Siler CIty, North Carolina.  Their latest E.P. "Lucid" combines excellent songwriting with fuzz driven riffs and layers of lush atmospherics to create a whirlwind of cosmic sounds. 
Fidel talks about some of their favorite songs in this weeks edition of "Five For Friday" but first listen to their song "Paranoia" below and explore the Giant Bird discography here.
Marble Tulip Juicy Tree by Ween
I've spoken about my love for Ween a lot on social media, but if I had to pick one song that has influenced my the most by them, it'd be "Marble Tulip Juicy Tree." This song, and really just the whole album completely changed the way I view music. For a while I was having a hard time writing songs because I just wasn't feeling "serious" enough if that makes sense. I just felt like I had to make something serious with serious and real emotions behind it and it was beginning to get difficult to just make music. This album showed me that it doesn't have to be that serious. It's okay to just have fun and make music that might not make sense to everyone. Marble Tulip Juicy Tree especially is just one of the most fun songs ever. I absolutely love it. I probably listen to it everyday atleast once. I actually named my last album "Mind Screw" after this song because of the line where Gene sings, "So when you see hoeckes mind screw, don't come running to me." I couldn't tell you what this song means, but man do I love it.
Chicken Grease by D'Angelo
I love funk and soul. From Marvin Gaye, to Con Funk Shun, to Funkadelic, I just love a good smooth groove. There's no soul artist that I love more than D'Angelo. His album Voodoo is the sexiest album I have ever heard, and the most chill and smooth music in existence in my opinion. It's hard to pick a favorite off of the album, but if I had to pick it would be "Chicken Grease." The subtle rhythm guitar during the chorus is probably my favorite part because it somehow manages to be so quiet and soft, while adding so much groove. Not to mention D'Angelos flow through the whole song. I absolutely love this song.
I Come From The Mountain by Thee Oh Sees
Thee Oh Sees is a band that I think everyone should see live atleast once. I got to see them for the first time last year and it was the most incredible experience. I Come From The Mountain was easily my favorite performance of the whole show. It has such simple, yet effective song structure and almost feels like an energy bomb that goes off as soon as you press play, with the first three strums of the guitar being the countdown before the explosion. I jam to this song a lot during my free time.
Head On/Pill by King Gizzard and The Lizard Wizard
This one was really hard to pick, mainly because King Gizzard is my all time favorite band and I love almost everything they have ever released. I could literally spend hours talking about this band and the influence they've had on my life in general. I decided to go with Head On/Pill because it's probably the song that has influenced me the most by them. This is a song that I jam to all the time as well, so that probably has a lot to do with it. My song "Jammed Brain" is probably the most directly influenced by it. There's just something about really hypnotic motorik jams that make me feel really good. I live for it. I find it to be one of the easiest forms of music to just lose myself in. I've probably listened to this song hundreds of times, including many live versions I've found online. It's just an incredible jam that never gets old. King Gizzards music in general has gotten me through some incredibly tough times. I really appreciate everything they do.
Hero by NEU!
I can't talk about my love for hypnotic motorik jams without talking about NEU!. This was another one that was hard to pick because they have so many songs I love, but I think "Hero" is my favorite. I absolutely love how punk this song feels, especially considering it came out in 1975. The instrumentals in my song "The Deep End" was especially influenced by NEU!. Their influence, like King Gizzard and Ween, is very present throughout my whole discography. All three bands just had/have such interesting and fun ways of experimenting with their music and being the music nerd that I am, I have a lot of respect for them.