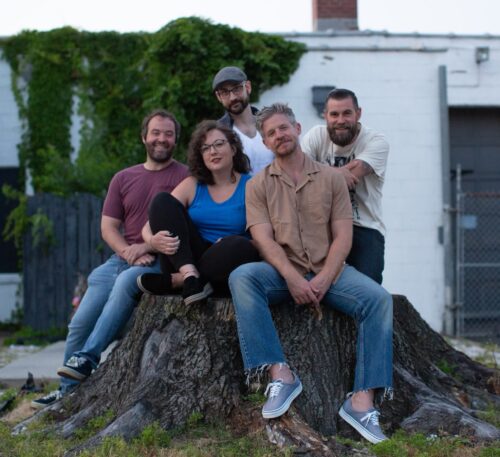 Pet Name began in 2016 as the home-studio recording project of Adam Hanson. Based out of Norfolk, VA, the band's influences range from 80's/90's melodic hardcore (e.g. Lifetime, The Descendants, Split Lip) to 90's indie rock (e.g. Pavement, Built To Spill), with a generous pinch of Gin Blossoms and Counting Crows.
Adam and his bandmates Ashley Wright-Drake, Stefan Skeeter. Matt Hillman and Jeremy Mitchell talk about some of their favorite songs in this weeks edition of "Five For Friday". Be sure to check out the band at tomorrows LAVA Presents "Grilled Out" Event at Toast in Norfolk, Virginia (tickets available here) and get the bands latest album "Lovebug" here.
Adam Hanson (Vocals/Rhythm Guitar) – Split Lip "Street Singer"
I tried approaching this prompt in a few different ways before ultimately settling on my choice. I picked this song in part because it makes the hairs on the back of my neck stand up every time I hear that first drum fill drop into punctuated rhythm guitar chords, a gorgeous arpaggiated lead, and David Moore's melodic vocals, which sound almost desperate in the best way. The other part of why I chose it's because I first heard it when I was about 13 or 14, and I don't remember having heard anything quite like it before. I was a socially shy kid with an absolute hambone personality hidden underneath, and I wanted so badly to feel brave enough to be seen. My older brother had this album on vinyl, and I must've listened to this song a hundred times that school year. It felt cathartic and hopeful for me, whether I was happy, sad, pissed off, or just about anything else. I still come back to it sometimes when I'm driving, and turn it up as loud as my old guy ears can stand.
Ashley Wright-Drake (Keyboards/Vocals) – Dory Previn "The Lady With The Braid"
It was tough for me to edit myself down to one song, but I kept coming back to this one. If you've never listened to "Mythical Kings and Iguanas" do yourself a favor and take the journey. Her songwriting and the raw emotion she puts into her performance is beautiful and haunting on another level. From the first listen to this song, I was hooked, and will forever strive to put that level of self into a song. If you hang out with me long enough, I will give you my own personal vh1 behind the music on her.
Stefan Skeeter( drums) – Squeeze- "Up the Junction"
This song is interesting to me because the verse is the hook, and there's no hook, but the verse is the catchy part. It's technically a ballad I guess cause it tells a story. There's a whole narrative. Just really great regular guy rock. Beautiful and simple, yet complex. "I got a job with Stanley, he said I'd come in handy, he started me on Monday, so I had a bath on Sunday"
Matt Hillman aka Grizz (lead guitar/lap steel)- Blink 182 "Carousel"
The first time I heard the opening track to Blink 182's Cheshire Cat, "Carousel" I knew I found something that was missing from my musical life. Twelve year old me had never been introduced to music so fast/loud/fun until that moment. Listening to that entire album now makes innocent memories of time spent in sweltering garages with like minded young people trying to learn every song by ear surface. Good times.
Jeremy Mitchell (Bass) – Modest Mouse- "Teeth like God's Shoeshine"
This album (The Lonesome Crowded West) and specifically this song were my first foray into not everything has to be a lightning fast punk song to have meaning. Musically "Teeth like God's Shoeshine" comes pretty fast and loud with the first verse than immediately quiets down for the pre-chorus/chorus to give room for the lyrics to do their work. The line "go to the grocery store and buy some new friends" has always stuck with me and is such a clever way to express the same anti-capitalist and "damn the man" sentiments being made in other music but in a much more nuanced way. As great as Modest Mouse's discography is this album will always stand out as their most sincere and this single song is a perfect window into this time of their career.