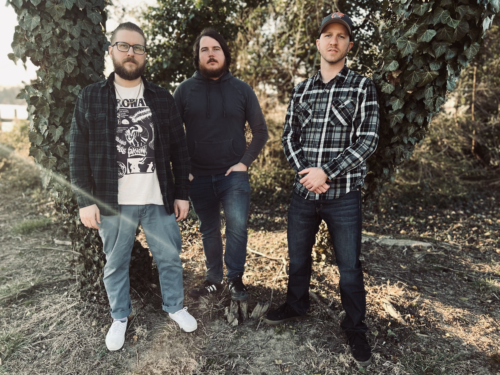 Pavonine are an Shoegaze/Alternative rock  band based in Pasadena Maryland. Their latest album "Heavy Is The Night" features 9 songs full of powerful guitars backed by a solid rhythm section and a heartfelt vocal delivery.
I sat down with band members Frank Spadaro, Joe Martin and Jake Rexine to talk about their early musical experiences, how they formed the band and the making of "Heavy Is The Night" which you can get here.
CMM-What was the first music that really made an impact on you all growing up and what artists and bands did you all enjoy the most?
Jake: Classic rock, Hendrix and Led Zeppelin mostly. Later on Modest Mouse was on repeat, especially Lonesome Crowded West.
Frank: Beatles and classic rock, then it was bands like Taking Back Sunday/Brand New. Later on I got more into indie/experimental/midwest emo.
Joe: Growing up I listened to a ton of grunge/dad rock thanks to my parents (I'm definitely not complaining). The first band that truly made an impact on me, though, was Blink 182. It wasn't long after I got "Enema of the State" that I was begging for a bass, and the rest was history after that. From there I was super into punk, bands like Anti-Flag, Rancid, MxPx, The Unseen, Propaghandi, NoFx.
CMM-When did you all first start playing instruments and making your own music and how did everyone meet and form Pavonine?
Joe: Jake started playing drums around 6, drum set at 10. Frank when he was about 13. Jake and Frank met young and started playing music together in middle school. I picked up bass in 6th or 7th grade, and met these guys in late High School. We were all in different bands starting in High School and the years that followed, but only ever had some light jam sessions together, which nothing ever really came of it. Jake and I actually started Pavonine back in 2015 with my brother, and recorded our first EP, but after he quit it wasn't until sometime in 2021 that we revived the band with Frank on guitar.
CMM-You recently released an amazing album called "Heavy Is The Night". What was the writing and recording process like? Any notable pieces of gear that you all used throughout the sessions?
Joe: First off, thank you for the kind words about the record, we appreciate it and love that you love it! The writing process was a pretty long haul. We spent a lot of time and scrapped a lot of songs while we were discovering our "sound". Covid definitely slowed things down, but we managed to record a quick demo before I had to take a break while my wife and I brought our son into the world. After sitting on the demo for a bit, we reworked a couple songs, and scrapped one, and once we picked up speed again we wrote the last few. The recording process was a long one, as we decided to do a complete DIY approach. There was a lot of learning along the way, but we're super proud of how it turned out. As for notable gear, all of our recording stuff Is pretty old, low end gear, that we made the best of. It's hard to make these Orange amps sound bad. Big shoutouts to Jake who mixed and mastered the entire thing.
Frank: I would definitely say my reverb pedal was a huge part (Strymon Bluesky) and the Digitech Whammy. As far as the writing I'd say the process was a lot of riffs that just kind of happened and then arranged, and the next thing you knew we had a record written.
CMM-If the band could collaborate on an album with another band or musician who would it be and what direction do you think the music would go in?
Jake: Matisyahu or Two Chains. It would get wild.
Frank: Anyone that I'm currently listening to, or any local band. Upbeat but experimental, something the local scene could relate to.
CMM-What do you all have coming up next? Any new recordings? Playing any shows? 
Frank: We've got some new stuff in the writing process.
Joe: Like Frank said, we have been working on some new stuff, which we'll definitely record and release as soon as its ready. We've been focusing a ton on just practicing and getting solid with the songs we have, and have been reaching out to everyone and anyone in the local area to start getting on some shows.