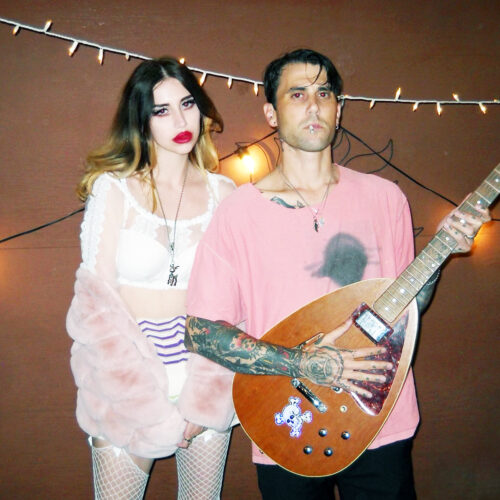 Plastic Bombs is a captivating bedroom project brought to life by the talented duo of Vanessa Matic and Joey Camello. While Joey orchestrates and composes mesmerizing melodies, Vanessa gracefully weaves poignant lyrics and lends her enchanting vocals to the tracks. When not immersed in various creative pursuits, they dedicate their time to crafting songs in the comfort of their home.
Vanessa is an established poet, an imaginative thinker, and the author of Romance and Revolution. Currently, she diligently works on her forthcoming poetry collection while simultaneously venturing into the creation of her debut novel. As the host and curator of Agape Lodge Poetry Society, Vanessa orchestrates a captivating poetry collective that mesmerizes audiences across Los Angeles.
Joey actively engages with the collective, participating in readings and showcasing his own poetry as well. With a wealth of experience as a touring musician, notably with bands like Fearing and Death Bells, as well as side projects like Last Blue Drag, he adeptly intertwines his artistry with a seasoned perspective, enhancing the very essence of his creations.
Together, Vanessa and Joey harmonize like rhythm and blues, creating an enchanting musical experience that leaves a lasting impact. I sat down with the two of them to talk about their early musical experiences, how they met and formed Plastic Bombs and the making of their recent releases which you can get here.
CMM-What was the first music that really made an impact on you all growing up and what artists and bands did you all enjoy the most?
Vanessa: Some of my favorite artists and such are James Brown, anything and everything Rowland S Howard, Dead Boys, New York Dolls, Primal Scream, Ride, BJM, Lou Reed, The Cramps, Blitz, many more but that's some for sure
Joey: I grew up on all sorts of music. My grandfather played the organ and piano, my uncles played guitar and my older cousin played in a heavy metal band. I was always around music in some fashion. I really enjoyed punk and metal music in my adolescent years (I still do) and really gravitated towards music accompanied by smart lyrical content or melody I was able to connect with. Among some of my favorites lyricists are Scott Walker and Eric Bourdon of the Animals. I've always been drawn to the dark and poetic elements of their writing in their catalogs. But I listen to all styles of music as long as I can relate to it in some way.
CMM-When did you all first start playing instruments and making your own music and how did the two of you meet and form Plastic Bombs?
Vanessa: I play no instruments. We met at a music festival and said bye in 5 seconds only to meet again years later.
Joey: I started playing guitar when I was probably 7 or 8. I don't remember exactly. But I began writing and recording songs at a very young age. I lived in my parent's garage and had a janky "studio" I had set up with thrifted microphones, trashy instruments, a 4-track tape machine and an old PC which I loaded up with whatever pirated recording softwares I could find. I'd stay up all night recording short songs basically every night.
The story of how we met is funny, as Vanessa said, we met very briefly at a music festival in Los Angeles. Years later we reconnected through poetry and we formed a band while I was living in Oakland and she was living overseas. We were booked to play a few shows and had a record coming out so she flew back to be here. There's a lot of other details but I'll keep it simple. That's just the beginning, the rest of our story is still yet to be written.
CMM-The project has put three impressive releases out in a short period of time that includes a total of 18 songs. What's been you all's approach to songwriting and capturing the mood and attitude when recording?
Vanessa: Umm I do the lyrics Joey does all the instrumental sometimes I hum some melodic stuff, but so far it's been just demo demons so we've done both albums start to finish each in two days. It kinda just happens, shock of electrocution spur of creation.
Joey: Demo demons for sure. We write this in a pretty carefree whirlwind. As V mentioned, each demo collection or "album" was recorded independently in two day blocks. This wasn't by any means intentionally done this way. Most of the time it's when I get home from being away on tour with another project I play in. We sit down and just create until we feel the project is complete. We actually have more songs we ended up cutting from all of said collections. The mood is usually conjured by our surroundings…the sad shit on the news, bad interactions, life gains, lost friends… I don't know, we're just kinda moody individuals and anything is fair game.
CMM-You all also recorded a cover of Suicide's "Rocket USA" that just came out. What is it about Suicide's music that originally attracted you to them and how did the cover come about?  (Listen to the cover here.)
Vanessa: So, we were supposed to play DTLA at a gallery for a friend's exhibition and he suggested we should cover the song. Only I got sick for five weeks so we couldn't do the performance. Suicide has probably been in my life since my teenage years, I've always thought they were a very cool dark atmospheric vibe which I was drawn to.
Joey: I love Suicide and have always wanted to one day record a cover of one of their songs. They were just so cool. Vega as an artist was very inspiring. I love his wild aesthetic and raw choice of words. We recorded a couple versions of this in like an hour maybe? Toying around with different methods as we wanted to keep it super gritty and minimal.
CMM-If you two could collaborate on an album with another band or musician who would it be and what direction do you think the music would go in?
Vanessa: Another musician…mmm… could go many ways. Jess Hughes is very talented, the whole Eagles of Death Metal and Queens of the Stone Age crew. Very classic, sexy, rock n' roll. But I also love Bobby Gillespie's work and how he often has other musicians featured on his songs. And I've always been interested in Massive Attack…
Joey: I've been fortunate to play in so many bands with many talented individuals over the years. Vanessa is super super talented and in my eyes her lyrical work is unparalleled by anyone I've had the pleasure of playing with… So I guess you can say I got lucky in that regard. I dunno, I don't think I could really give a straight answer for this on the spot…I do really enjoy collaborative projects but nobody comes to my mind as far as like a bucket list collab at the moment.
CMM-What's coming up next? 
Vanessa: No new shows. More music… most def, we're still forming a band. It's not a rush. We both have lots of other projects in between. I'm working on a screenplay, editing a novel and Joey has another band and many creative works.
Joey: Nothing on the immediate horizon. We do need to form a band but it's hard as everyone we know is in a touring band already with very limited free time to join any other projects, or they live too far away. But yea, we both have a lot of projects going on and it's a juggling act sometimes but we enjoy the chaos and tend to thrive in it. We've been writing a lot of new demos tho and want to hopefully re-record some of the old tracks as well take more time to nurture and develop our newer ideas with the assistance of a producer. We're thinking of independently releasing the demo material we have in a physical format soon but haven't yet.