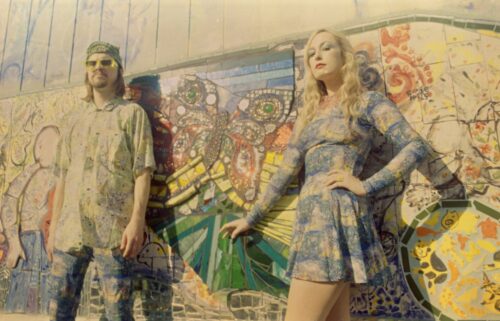 SNEAKPEEK are a Los Angeles based duo who's music is a fine blend of dark psychedelia, shoegaze, garage rock and dream pop.
I sat down with members Dora Hiller and Aric Bohn to talk about their early musical experiences, how they started playing together and the making of their latest album "SCENE WITHIN A DREAM" which you can get here.
CMM-What was the first music that really made an impact on you all growing up and what artists and bands did you all enjoy the most?
Aric: The first song that really impacted me as a kid was the song Poison by Bell Biv DeVoe. I was also very into Nirvana, Alice In Chains, Stone Temple Pilots, Pearl Jam and Smashing Pumpkins.
Dora: The first music that really made an impact on me as a child was The Beatles and The Velvet Underground in high school.
CMM-When did you all first start playing instruments and making your own music and how did the two of you meet and form SNEAKPEEK ?
Dora: I come from a family of actors who are all very musical and love performing and I always enjoyed singing. I learned how to play bass by practicing Cranberries and Nirvana songs by ear.
Aric: I started playing in bands in middle school. My mom got me a guitar from the JC Penney catalog with a built in amp in the body in 6th grade.
We met at a club that no longer exists called Cinespace in Hollywood when we were introduced by the dj Steve Aoki who was a friend at the time.. It wasn't until a few years later after Aric left The Willowz and I quit the all girl folk band I was playing in I started writing a bunch of my own songs and decided to form Sneakpeek. We recorded our first album in 2011 with our best friends Aaron Haack on drums and Mike Motz on guitar.
CMM-The group recently released a really beautiful record called "SCENE WITHIN A DREAM". What was the writing and recording process like? Any notable pieces of gear that you used throughout the sessions?
During the Covid lockdown of 2020 we had a lot of time on our hands and gotten really obsessed with obscure synth pop music from the 70s,80s and 90s specifically from Europe/overseas. We were writing from that mindset when we created the songs. The high energy dance vibes brought us a lot of joy and comfort during that time. For the past three years we kept building on that psychedelic electronic vibe which is what led to what is now "Scene within a Dream".
Some favorite pieces of gear that we used is our 80s Yamaha DX7 synthesizer and the Waldorf Blofeld synthesizer which was a gift from our old friend Paul Kostabi. The Yamaha QY70 added some fun sounds. We have turned one of the bedrooms in our home into a studio so we did everything ourselves there.
CMM-If the band could collaborate on an album with another band or musician who would it be and what direction do you think the music would go in?
Dora: Michael Cretu, Giorgio Moroder or the producing teams that were behind Italo disco acts such as Valerie Dore and Baby's Gang from the 1980s. I am obsessed with them especially their use of instruments melody and synthesizers is really fascinating to me. I wish I could learn all their tricks.
Aric: I'd like to collaborate with modern bands like LA Priest, Benedek and Eleventeen Esten. I'm a big fan of their production. I'd also like to collaborate with former American Idol hopeful Xcentric aka The Panther Man. He's been missing from the public eye if anyone can connect us please reach out.
CMM-What do you have coming up next? Any new recordings/shows etc etc???
We have a new video for our song "Green Light" releasing soon and we are always working on new songs. Any show announcements will be on our social media so follow us for updates.
Also It would be great to do some sort of physical release for "Scene Within A Dream".