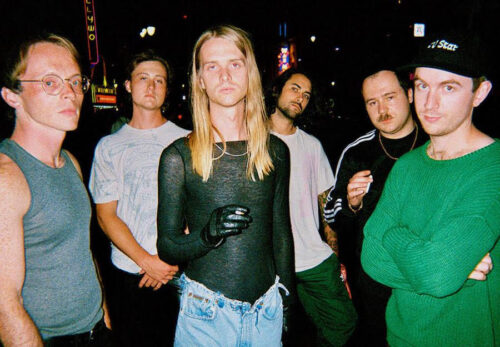 So long as there has been madness, there has been art that tries to arrest its shape, art that tries to capture its lack of coherency and fashion something beautiful out of the stupidity. Caught in a world that feels as if it were careening off a ledge, inflated drug & sex scandals, chemical-depleted romance, and noir-like petty hustles every day anew, it is often the delirium of playing the fool that makes us feel closest to God. On Escorts, PNW / LA players Advertisement lean into the romance of such foolish, magical thinking.
On their latest Bryan Ferry-esque "Where Is My Baby?", Advertisement launch the listener into the midnight streets, following a foolishly optimistic character as he stumbles after an elusive love interest with a "smile like lemonade," only for him to tumble to an untimely end in the shallows of the Hudson River. The single comes alongside a mischievous video created by the band and director Kyle Mangione-Smith. His brother Ryan Mangione-Smith (writer and Advertisement guitarist) explains, "We tried to reinterpret the visual language captured by Kenneth Anger's Scorpio Rising—the non-linear and delusional thinking, the provocative magic of the city at night, sexuality as something which is often embarrassing."
Escorts is a nighttime record. It burns with the neon-seared complexion of a city wanderer, always moving with a funny sense that there is an unnamable fear lurking just off the horizon. City nights are fleeting, endlessly tumbling towards the disappointment of dawn. Advertisement metabolizes the sounds of good nights gone awry with startling clarity, shifting effortlessly from glossy, leather-doused glam rock to glitching, Kraut-inspired spirals, Scott Walker-tinged empty pub revelries to industrialized club loops. Undergirding the entire record is a singular devotion to pop worship: amidst its suffocating whirl of jagged sonic palettes, Escorts displays an unwavering loyalty to the ideal of simple, engaging songwriting.
It's a bold, stylistic departure from previous work and the first preview into Escorts, which sees its release via Feel It Records on September 15. Since the release of their acclaimed 2020 debut American Advertisement, which garnered Rolling Stones-esque comparisons from such publications as Pitchfork and 'favorite debuts of the year' from the likes of Consequence and NME, Advertisement have stayed busy on the road with The War on Drugs, Sheer Mag, Surfbort and Narrow Head. These intervening years found the band becoming increasingly disaffected with the limitations of the live band oriented, English-invasion-meets-Americana rock ethos that defined their first LP. These fresh ideas are on full display throughout their latest singles, "Material Man" (Hardly Art) and ("The Matador") Fire Talk Records.
Advertisement wrote Escorts whilst scattered Seattle, Los Angeles, and New York City. They reconvened in Los Angeles during the summer of 2022 to record, enlisting the help of engineer Mike Kriebel (Osees, Ty Segall, Mild High Club), who tracked and mixed the record. The end result bears an increasing energetic resemblance to the chameleon-like, attitude-over-genre sensibility of both early forebears like Roxy Music and Amon Düül as well as more recent contemporaries like Total Control, The Men, and Milk Music.
At heart, Advertisement makes no attempt to overwhelm the listener with indulgent references or feigned cerebralism. Rather, Escorts follows in the tradition of all the mad art which came before it, turning the delirium of living into something dumbed down and delightfully visceral.
Advertisement Live Dates:
Oct 03: San Diego, CA – TBA
Oct 05: Los Angeles, CA – Gold Diggers
Oct 06: San Francisco, CA – Kilowatt