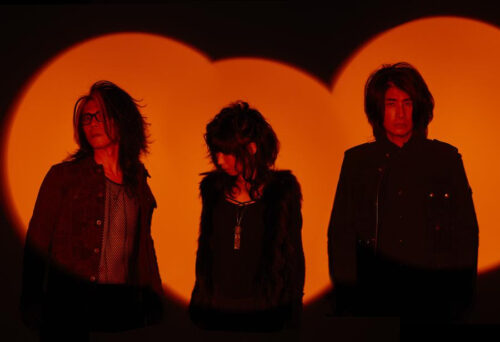 21 years since it first surfaced, Boris' landmark album Heavy Rocks (2002) is finally available on DSP's. Its original release in 2002 circulated only domestically in Boris' home base of Japan, leaving worldwide listeners eager for physical copies of the album. At the time, as record pressings were in production, a fire broke out at the plant and the stamper was lost, rendering the album out-of-print for many, many years — and it quickly became a cult classic. The reissue, out digitally today and physically (on LP for the first time ever, on CD format as a re-press) on September 8th, was restored from the original TD master.
The release of Heavy Rocks (2002) also coincides with an expansive Boris + Melvins U.S. tour that kicks off August 24th in Los Angeles. Both bands have circled each other with reverence for many years; they first played a show together in 1999 during Melvins' first time in Japan, and ever since they have deepened their friendship and enjoyed opportunities to play together whenever possible. This time, for their first ever tour together, Boris and Melvins will be playing a full set of songs from their classic albums: Bullhead from Melvins and Heavy Rocks (2002) from Boris.
Takeshi from Boris comments, "Could anyone have predicted such an astonishing event, that Boris and Melvins would tour the entire USA together? Since the mid-1980's, Melvins have had an enormous influence on artists of all genres not only limited to heavy music, and have brought forth a surge of faithful followers over the years. Needless to say, Boris is just one of these many bands influenced by the mighty Melvins, and we took our name from a song title off of the 1991 album, Bullhead." Buzz from Melvins continues, "40 years as the Melvins!!! What better way to celebrate that unlikely milestone than by setting off on the 'Twins of Evil Tour' with our friends Boris!! This will be a stone groove!"
Pre-order Heavy Rocks (2002) here, check out a new line of Heavy Rocks merch here, and stay tuned for more news on Boris's inimitable output to come.
Boris + Melvins, on tour:
August 24 Los Angeles, CA @ Belasco Theater
August 25 Pomona, CA @ Glass House
August 26 Fresno, CA @ Strummer's
August 27 San Francisco, CA @ Great American Music Hall
August 28 San Francisco, CA @ Great American Music Hall
August 29 Petaluma, CA @ Mystic Theatre
August 31 Portland, OR @ Roseland Theater
September 1 Seattle, WA @ The Showbox
September 2 Spokane, WA @ Knitting Factory
September 3 Bozeman, MT @ The ELM
September 5 Fargo, ND @ The Hall at Fargo Brewing Company
September 6 Minneapolis, MN @ Varsity Theater
September 7 Milwaukee, WI @ The Rave II
September 8 Chicago, IL @ The Metro
September 9 St. Louis, MO @ Red Flag
September 11 Indianapolis, IN @ The Vogue
September 12 Grand Rapids, MI @ Pyramid Scheme
September 13 Detroit, MI @ St. Andrews Hall
September 14 Cleveland, OH @ Beachland Ballroom & Tavern
September 15 Pittsburgh, PA @ Roxian
September 16 Maspeth, NY @ DesertFest NYC
September 18 Albany, NY @ Empire Live
September 19 Boston, MA @ Paradise Rock Club
September 20 Bethlehem, PA @ MusicFest Cafe
September 21 Philadelphia, PA @ Brooklyn Bowl Philadelphia
September 22 Washington, DC @ The Howard Theatre
September 23 Virginia Beach, VA @ Elevation 27
September 24 Carrboro, NC @ Cat's Cradle
September 26 Nashville, TN @ Brooklyn Bowl Nashville
September 27 Atlanta, GA @ Variety Playhouse
September 28 Savannah, GA @ District Live
September 29 Birmingham, AL @ Saturn
September 30 New Orleans, LA @ Tipitina's
October 2 Houston, TX @ Warehouse Live – Studio
October 3 Austin, TX @ Mohawk
October 4 Dallas, TX @ Granada Theater
October 5 Oklahoma City, OK @ Beer City Music Hall
October 6 Tulsa, OK @ Cain's Ballroom
October 7 Lawrence, KS @ The Bottleneck
October 9 Denver, CO @ Summit
October 11 Albuquerque, NM @ Sunshine Theater
October 13 Tempe, AZ @ Marquee Theatre
October 14 San Diego, CA @ House of Blues