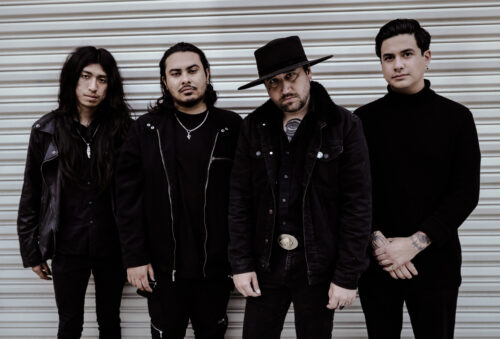 Far from sunny and bright, Fevr offers a unique brand of pure coldwave/newwave/post-punk with a heavy darkwave and darksynth influence, endearingly menacing synth work, callous and brooding vocals, stellar guitar and drum work, and deep, thought-provoking yet simply relatable lyricism, this band is a creation of a cold, desolate, and sorrowful stroke of genius from an anxious mind.
I sat down with FEVR founder Matt to talk about their early musical experiences, how the group started and the making of their latest release "Fate" which you can get here.
CMM-What was the first music that really made an impact on you growing up and what artists and bands did you all enjoy the most?
Matt-When I was young the biggest influence for me was The Cure. Robert Smith always captivated me with his performance and emotions behind his music. I remember singing along and feeling what he was singing. Also, hearing the rhythms I couldn't help but dance and move to it.
CMM-When did you first start playing instruments and making music of your own?
Matt-I first started playing guitar when I was 15. My mom bought me an acoustic guitar for my birthday. From there I taught myself and fell in love with song writing. I remember staying in my room all day drinking coffee and recording. It was the one place I could get away from my depression and relieve my mind. Going through abuse as a child and also witnessing my mother being abused was so hard and I didn't know how to deal with it. This was my coping tool and still is til this day.
CMM-You recently released a new record called "FATE". What was the writing and recording process like? Any notable pieces of gear that you used throughout the sessions?
Matt-For "Fate" the writing process was pretty organic and all of the songs came pretty quickly. I tried to channel all of the things I have gone through. Whether it was depression, relationship problems or addiction problems, I tried to capture the feeling and emotion. The song fate was the feeling of being in a toxic relationship and second guessing if it was good for me. We all go through codependency and toxic areas in relationships. The older I got it was more about being aware of these situations. Once I was, I was able to set boundaries and leave situations that were not good for my mental health. The gear that defines fevr is 1. My Roland Juno G Synthesizer. It gave the 80s sound I always loved. This is my favorite piece of gear. Other than that I had a crappy interface to record on and 1 guitar with a chorus and fuzz pedal. The simplicity of the gear helped me to focus on the songwriting and lyrics rather than getting distracted by wanting better gear.
CMM-If you could collaborate on an album with another band or musician who would it be and what direction do you think the music would go in?
Matt-If I ever got to collaborate with someone it would be with Robert Smith from The Cure. It would be a dream come true! I feel like we would have a deep connection and make some beautiful music.
CMM-What's coming up next? Any new recordings? Playing any shows? 
Matt-We have some exciting things coming up! We are playing at Club Decades with The Cure Tribute band and my brothers Missing Words. Very excited for this one! We are also playing Nothing Fest this year and can't wait for that as well. Next year we plan to tour Europe and the U.S.! We will also be playing in AZ next month on an Indian reservation. We have so much support and are so grateful. Can't wait to see what's next!