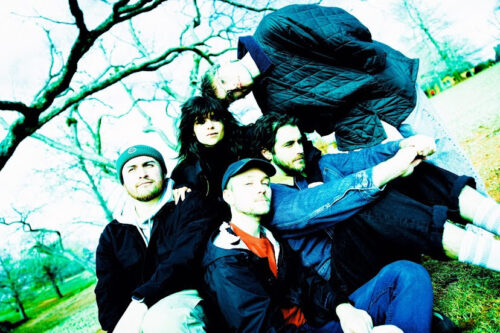 OKC's Mad Honey will release their debut full-length Satellite Aphrodite on September 22nd from Deathwish Inc. and Sunday Drive Records. The album is an exciting first chapter of a band destined to be part of the modern indie-rock lexicon for years to come. Since their inception, Mad Honey have released a number of singles and EP's and their long-awaited debut LP transports listeners into the band's lush world of musical melancholy.
The album's blissful new track "r u feeling it?" arrives today with a new music video. Of the song, Mad Honey bassist/vocalist Lennon comments, "I wrote this track after Tiff, Branden and I were hanging out at a bar. They opened my eyes to so many new bands I'd never heard before and I felt inspired to try and write a mad honey song. 'r u feeling it?' was originally just written for Tiff to sing and write to, but everyone liked the demo so we kept it how it was for the album. My dad had borrowed my guitar and when I went to work on the song it was in this crazy tuning that was instantly inspiring to me. It started with that hip-hop drum beat and I recorded the whole thing live just by looping the different parts. I didn't think about it at the time, but I think the song is about seeking validation in music and hoping that someone listening will like your song."
Satellite Aphrodite features 11 new, unforgettable songs that showcase a sophistication deep within the band's multi-layered approach.  Each track shimmers and sways with a punk heart and pop sensibility that show Mad Honey discovering their own youthful creative magic in real time.
Look for Satellite Aphrodite to be out on September 22nd.  Pre-order it here and see Mad Honey on tour later this year with The Ivy.
Mad Honey, on tour with The Ivy:
November 26 Phoenix, AZ @ Rebel Lounge
November 27 San Diego, CA @ Soda Bar
November 29 Los Angeles, CA @ The Moroccan Lounge
November 30 Sacramento, CA @ Starlet Room at Harlow's
December 2 Seattle, WA @ The Funhouse
December 4 Salt Lake City, UT @ Urban Lounge
December 6 Denver, CO @ Lost Lake
December 8 Tulsa, OK @ The Vanguard