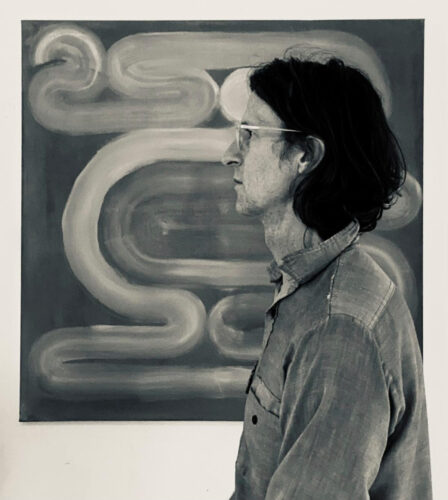 Ticker-tape and soot cascade through the air as Michael Donovan's parade rolls on down the road, this time in collab with The Mighty Flashlight (aka Mike Fellows). On this latest long player, Mike 'n Mighty lead us into a stereo maze of sweet and hot noise, soaked in the purifying waters of rock and passed through a variety of sonic sieves, making a jolly hallucinatory racket, at that!
At least it did on the first single, the carnival of sound "Planet Metley"! For the second single from Meets The Mighty Flashlight, sweet sounds abide: "Whistledown" is a unique strain of chamber rock, folk style! Massaging his acoustic guitar line with mellotron strings, roadhouse piano chords and the Flashlight's melodic, singing bassline, Mike hints glancingly upon abstracted moments of isolation, touched with re-fractions of a tumescent yearning, a desire for oneness, the absence of the togetherness brought by another.
The video for "Whistledown" reflects these feels with a steadicam ride through the wilderness, rendered in crisp black and white. Not a human in sight; all alone but for the trees and the undercarriage and the flying insects. The camera/narrator is one with them, sweeping along the path – but since being in the country is good for the spirit, becoming like the bugs is a reverse-Kafkaism, freeing and in tune with momma nature instead of reflecting human society's reductionist. But all it's basically saying is, "let's keep it breezy – I know I've been way out there, reel me back in." A bucolic statement of love in country time!
Mike Donovan Meets The Mighty Flashlight on October 13th; "Whistledown" now!