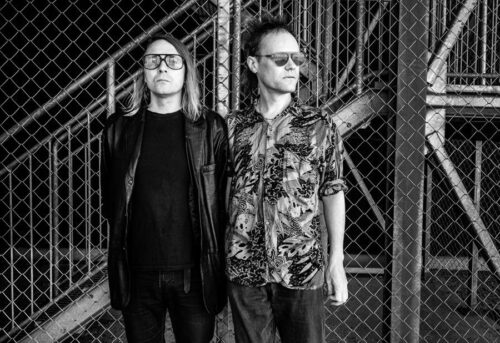 Since founding Swedish synthpop duo KITE in 2008, singer Nicklas Stenemo and keyboardist Christian Hutchinson Berg's brooding fusion of cinematic electronics and anthemic pop has steadily elevated into a spectacle of passion, atmosphere, and communion. Their debut double-A vinyl single for Dais Records, Don't Take The Light Away / Remember Me captures KITE at their most urgent, thrilling and apocalyptic.
Words only tell half of the story; smoke spills across the stage, and the melodies become a battle cry. Our worst fears eventually boil over, turning into hope and resilience. Like the best of KITE's music, "Don't Take The Light Away" and "Remember Me"— the latter premieres today— fuse theater and catharsis into anthems of universal yearning, born of "the struggle to keep a flickering candle lit in a very dark space."
"Remember Me" was written following the band's 2017 US tour, capturing the intense feelings of burnout and exhaustion. "Remember me, Won't you remember me, Promise you'll remember me."
Although Stenemo and Berg grew up in small Swedish towns (Stenslanda and Tranås, respectively), KITE has carried them around the world, on extensive tours through dozens of countries and immortalized their 2019 performance at the Royal Swedish Opera backed by a 16-piece orchestra.. The elemental melody and emotion of KITE's music resonates in every culture; their lyrics can be felt without being understood. This sense of potency extends to their recordings as well – KITE favor the EP format, having released six so far, in keeping with their "all killer, no filler" ethos.
2022 found the duo returning to the United States for a bi-coastal string of shows, sharing bills with other dark synth pioneers such as Front 242 and Cold Cave, but September 2023 marks a grand homecoming for KITE, as they will headline the largest show of their career at one of the world's most breathtaking and beloved outdoor venues: Dalhalla. An open-air theater built into a former limestone quarry in central Sweden, it presents a fitting throne for Kite's ascendence to the highest echelons of global synth-pop.
Pre-order Don't Take the Light Away / Remember Me on 7inch here.