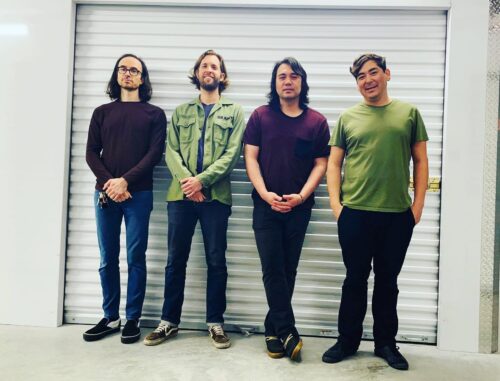 Started by Norfolk area musician Josiah Schlater, LADADA have been making uplifting psychedelic garage rock for over a decade.
I sat down with Josiah to talk about his early musical experiences, how he started playing music and the evolution of LADADA.
The group join Feminine Death and Arms Bizarre for a show tomorrow night (8/19) at The Taphouse in Norfolk VA.
Get all of the info on the show here  and check out the bands discography here.
CMM-What was the first music that really made an impact on you growing up and what artists and bands inspired you the most?
Josiah – Third Eye Blind's first album was the first CD I owned (my older brother got it for me for Christmas). I still love that album start to finish. I also had a mix CD my brother gave me with songs by Big Pun, Dr. Dre, and Snoop Dogg on it. Other bands growing up were Weezer, Radiohead, The Beatles, Blink 182, Green Day, Arcade Fire, Bob Dylan, The Velvet Underground, Sufjan Stephens, Sigur Ros, Bright Eyes, Postal Service/Death Cab, and Coldplay.
CMM-When did you start playing instruments and writing songs? What are some of the bands you've been in over the years?
Josiah – My Dad started teaching me flamenco/classical guitar when I was eleven, and at the same time, my brother was teaching me Metallica and other radio hits of the late 90's.  Bands I've been in started off with Sparrow, which turned into Paper Cadence (which had my brother on guitar and Robert Smith on keys) which turned into Tokyo (Robert still on keys, my brother on drums, and Aaron Lachman on bass). A little before and during Tokyo was a 3 piece indie/math band called Ridderhof (featuring Robb Esperat as the songwriter/arranger). Also did stints with Mae, Jake Clemons, and We Are Trees.
CMM – When did LADADA start and how has the line up evolved over the years? Who are the current members and how does everyone contribute to the overall chemistry of the band?
Josiah – Ladada started when I got a 5×7 storage unit in 2012 to record drums and other instruments for the first record. I released it through a label Todd Webb connected me with called Gold Robot Records and I got Robert to join me on bass and Calum McPherson Smith on drums. We played around town and also SXSW in 2014. At this time we started to write new songs which became the Hi Five EP. It was then that Bobby Rangel replaced Calum on drums, and we added Jon Reynolds on 2nd guitar. In this formation, we played around town and wrote/recorded all the songs that are on the Heaven on the Rocks LP (released in 2019).
Soon after that, Jonnie Schilling replaced Jon Reynolds on 2nd guitar and it was in that formation that we did a small tour with LA natives Levitation Room, and also a small tour with VA's own Shormey. We continued to play around town, and when Covid hit, we each recorded parts remotely to what would become the ré EP (released in 21). A little after it's release, Wes Johnson replaced Jonnie on 2nd guitar, and Robert/Bobby/Wes/Josiah became/still is the current line-up. In the past I've come up with song ideas and we'd hash out parts as a band. Around the time that Jon Reynolds joined, we all started bringing ideas to the table, with the current line-up being the most democratic the band has been.
CMM -You all released an E.P. in 2021 and a split 7″ with Community Witch last year. How are the new recordings shaping up and when do you plan to release them?
Josiah – Yea the split was fun. We recorded both bands on an iPad at our practice space and released it on vinyl with Gold Robot. The new recordings on our upcoming EP were done the same way, but we've sent it to an engineer that's a friend of Bobby's to mix and master it. Still waiting on the final piece to the puzzle: Robert's harmonies. If everyone reading this could bug him about getting them done that'd be great.
CMM – If LADADA could collaborate on an album with another band or musician who would it be and what direction do you think the music would go in?
Josiah – I've always wanted to collaborate with Jonny Greenwood of Radiohead. On a more realistic level, I'd like to get with 2 other drummers (Pete Chudzik formerly of the House Floor and Jacob Marshall of Mae) and record a rhythmical album with field recordings of various sounds like dishes being washed and clothes in a dryer.
CMM – You all are playing this coming Saturday (8/19) at Taphouse in Norfolk alongside Feminine Death and Arms Bizarre. With so many amazing bands in the Norfolk/Virginia Beach area how would you describe the current music scene here and who are some of your favorite local bands?
Josiah – I would have to say all the bands that share our practice space are our favorites (Community Witch, Warm Hug, Raise Hell Over The Summer,
Captive Birds, Broken Beaches). Other local favorites are: Shormey, Berries, Koren Grace, the Lazy Dangers, You're Jovian/Obscure Son, Demons, Crimeline, Wandcarver/Hope Magnet, It's the Koncept, Reptile Tile, Snake Mountain Revival, Logan Vath, Dariel Clark, the Sandtones, Bantustans, and Danet Jackson. All homies and excellent songwriters.
CMM – Anything else coming up?
Josiah – Can't announce other shows at this time, but hopefully we'll finish this new EP soon and get it out into the world.