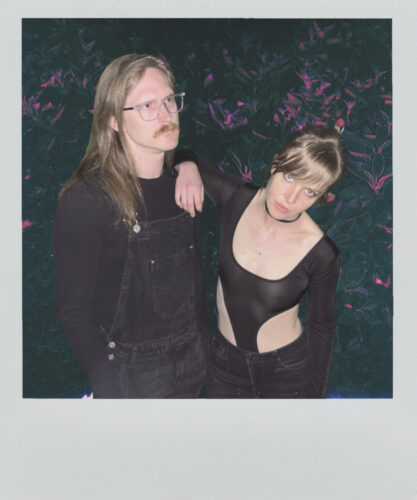 Slender Dan is an indie-electronic duo based in Nashville made up of Heather Dickson and Patrick Ahern. The duo's latest album "GESTALT" is made up of 19 highly infectious tracks that takes you through a colorful journey led by pulsating beats and hypnotic synths. 
Reflecting on the groups "Five For Friday" selections they stated…
"We really enjoyed putting this list together. Obviously there are many more but these were the five songs that were most influential to us when we were creating GESTALT. If any of these songs are new to you we'd highly recommend checking them out with the nicest pair of headphones you have access to. They're all masterpieces." 
You can check out Slender Dan's music here.
Alt-J – Hunger of the Pine
Hunger of the Pine was super influential particularly in its use of space, pacing, and sampling. The self control it takes to start a song like this taught us a lot about trusting the patience of the listener. [this artist's influence can be heard in The Incredible Lightness of Being I and Unlucky Eyes].
Aphex Twin – Alberto Balsalm
Alberto Balsalm informed us to really examine our instruments and tone choices and create pallets of tones for each song. It also made us want to include counter melodies whenever possible because we wanted the music to be as memorable as the melodies we placed on top of it. [this song's influence can be heard in Give Me A Place To Stand]
Bjork – All Is Full of Love
Bjork holds a special place in our hearts. Her fearless exploration is a bottomless pit of inspiration. This song in particular is a great reminder of what's important. [this song's influence can best be heard in Little Blue Thumbs, The Fool, and A Cosmic Joke]
Miike Snow – Black Tin Box/I Feel The Weight
The way Miike Snow balances the novel with the memorable is something we strive for in our music. From their unique vocal treatments and tone choices to their nursery rhyme-esque melodies, Miike Snow has always been a major influence for us. [this artist's influence can be heard in A Life Unlived, No Longer New, and Mind at Large]
Thom Yorke – Twist/Dawn Chorus
Thom Yorke's solo work has definitely played the largest role in influencing our music. We often ask ourselves WWTYD (What Would Thom Yorke Do?) haha. The worlds he creates in his songs and albums are so immersive and expansive that we can and do often get lost in them. We chose these two songs because they baffle us. They're so emotional and we can't quite put our finger on why. [this artist's influence can be heard all over GESTALT but in particular Anxiety, By Design, Time Is Running Out, and Sermon]