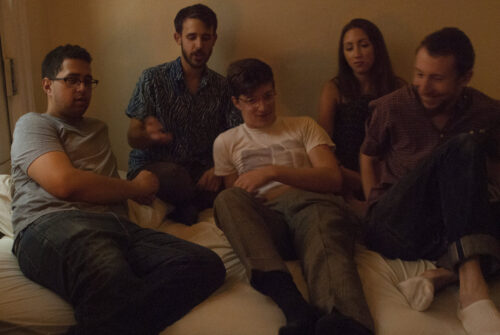 Brooklyn based band Loosie have been described as "dreamy, stark, noisy, washy and melancholic loving". Their latest album "Love Hotel" has some of the most well crafted songs you'll hear anywhere as the group incorporates intricate indie rock riffs with powerful vocals alongside flawless musicianship. 
I sat down with drummer and primary songwriter Alex Kirkpatrick to learn more about their early musical discoveries, the formation of Loosie and the making of "Love Hotel". Click here to get the album and find out more about the band. 
CMM – What was the first music that really made an impact on you as a child and what artist did you enjoy the most? 
Alex – Stankonia by OutKast. I remember writing an essay for music class when I was 10 or 11 about that CD. That group is so important to me–it was the only hip-hop that my family collectively dug, and they seamlessly brought a wild, unhinged element to infectious pop music. I think that was the first time I sensed there could be something beneath the surface to dig into in music, and it laid the groundwork for getting into underground and old school hip-hop heavily throughout middle and high school, later getting deeply into jazz, and even later actively seeking out the avant-garde across genres. That all started with OutKast–Bombs Over Baghdad, Ms. Jackson, etc.–incredibly, these songs remain pop touchstones given how unapologetically weird they are.
CMM –  When did you first start making your own music and how do you feel you've developed as a songwriter over the years? 
Alex – I was a band kid from age 9 on. I had great music programs in middle and high school in suburban NJ, and I participated in everything that allowed for percussion–concert band, marching band, jazz band, orchestra, theatre pit, percussion ensemble, etc. I went to music school for college, and in my first-semester ensemble, each member was required to supply original jazz tunes. I'd never written anything before, but a fellow student tutor helped me just feel out the piano for chords and voice-leading I liked. I still write like this–I like music theory as a tool, but at the end of the day, I typically mess around with shapes and colors on the guitar until I find something that feels compelling, and from there, I try and let that germ tell lead me through the full fleshing out of the rest of the song. I actually got into rock and singer-songwriter stuff in my late teens and early twenties, and I started writing my first songs with lyrics in 2012.
One of the unique things about leading a band from the drums is that you either need to be able to perform the hell out of your songs solo to demonstrate them (not me) or you need charts (me). So I make charts for these songs, and that engraving process has to come to help me write intentionally since I have to make up my mind about every lyric, chord, structural element, etc. before we as a band bring it to life, change stuff up, and ditch the sheet music.
CMM – How did Loosie form and who all are in the band? 
Alex – We all met at The New School in NYC studying Jazz and Contemporary Music. Excuse me as I gush about each member and the amazing music they make outside Loosie.
Our singer, Sara McDonald, leads an 18-piece progressive jazz/rock big band plus strings called The NYChillharmonic that plays the most shredding songs with ridiculous instrumentation. Our bassist, Ben Murphy, is also a composer who writes really beautiful and fun just-tuned computer music for humans. Our keyboard player, Dominic Mekky, is a composer and producer–among many other things, he's working on his second multimedia music drama (his first is titled April), a highly collaborative project that straddles contemporary classical music, sound design, musical theatre, and fiction. Our guitarist, Gary DeAngelo, and I came together over a shared love of the music of Paul Motian and have played improvised music together over the years; he's also a great session guitarist and recording and mixing engineer. The guitarist you hear on Love Hotel is Louis Cohen, who we lost to the sunny allure of Los Angeles, which I can't blame him for, but we do miss him; his album The Dynamite Man with his band Lou and Co. from last year is a craggy, psychedelic love letter to Tropicália music that you must hear. Were all really good friends.
CMM – Your latest album "Love hotel" is a truly amazing record. What was the writing and recording process like? Any particular gear you used that really helped shape specific parts of the album? 
Alex – The last place we expected to record an experimental indie rock album was Midtown Manhattan, but alas, the main three-day session was at a beautiful space called GSI Studios with Yi-Wen Lai Tremewan engineering and later mixing. This gave us access to an incredible soundboard, reel-to-reel tape, mics, amps, booths, and a baby grand piano. After the main session, Yi-Wen, our then-guitarist Louis Cohen, and I had several hybrid overdub/editing/mixing sessions where we crystallized the atmosphere and details of the record. Steve Fallone at Sterling Sound did an excellent job mastering it.
I have a sort of obsessive approach where I try to put together full albums in order as I write songs. Once I feel I have a collection of songs that feel stronger in the context of one another, I procrastinate for a couple of years before I finally can't take it anymore and schedule the session. That's what happened with Love Hotel. All of these songs deal with feeling trapped by numbness, distraction, over-stimulation, and escapism–these are the pitfalls of our times to me, and I think I wanted to convey something hard to boil down through anything but big sprawling songs: what it feels like to not be able to feel but to want to, and what it feels like to taste "grounded" when much of life feels very up-in-the-air. The best musical tool for conveying numbness that I've found is shoegaze, so while we're not a proper shoegaze band, its stylings are essential to our sound.
CMM – If you could do a score for any film director who would it be and what would the film be about? 
Alex – Adam Curtis. As a matter of fact, his film Hypernormalisation from 2016 and some interviews he gave around that time informed the lyrics of "No Future," track two of Love Hotel. Adam draws unintuitive throughlines across disparate cultural and political movements throughout history and across the globe by using his access to the BBC's massive archives. The results are experimental documentaries consisting of only archival footage, music, his narration, and a few extremely simple words on the screen. He uses music across genres–pop music from all over the world, disco, Nine Inch Nails stick out to me–so he'd have to change the whole mishmash musical approach that works so well for his movies just for us. He has such a knack for conveying just how strange and confusing it is to live in these times–art is the most effective tool to me for dealing with feelings that can't be described succinctly, and I'd love to make music to accentuate that in a film.
CMM – What's next for you all? Any new recordings/shows? 
Alex – We plan to continue to play in NY every month or so with some stints out of town here and there. Our next show is at Purgatory in Bushwick, Brooklyn on Sunday, March 5th with Public Speaking, a fantastic solo experimental songwriter and electronic musician. Beyond that, we have a ton of music written that we're working on, so our sights are set on recording again once that's ready.