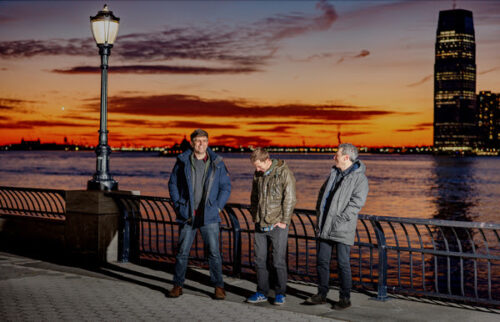 New York's 
Skull Practitioners
 release their first full-length album, 
Negative Stars,
 for 
In the Red Records 
on 
January 20th
. The album is the second release for Los Angeles-based In the Red by the trio — guitarist 
Jason Victor,
 bassist 
Kenneth Levine
, and drummer 
Alex Baker
, following the band's acclaimed EP, 
Death Buy
, issued in 2019. The band previously shared the video for 
'Exit Wounds'
 and today reveal a second track, '
What Now
', ahead of tomorrow's album release.
Previously, Victor had established himself as the dazzling co-lead guitarist for Steve Wynn and the Miracle Three – when Wynn revived his '80s LA Paisley Underground consortium The Dream Syndicate in 2017, Victor took the guitar chair previously occupied by Karl Precoda and Paul Cutler.  Levine was playing in DBCR, a three-piece unit. "We wanted to go to a five-piece, and needed a drummer and another guitar player," he says. "We put an ad out on Craigslist and met Jason and Alex that way. Alex was just two weeks into living in New York. We played together for a while, and then it just sort of dissolved. Jason, Alex, and I actually had more of a shared, common musical perspective, and the three of us decided, 'Let's stick together with just us three.'"
Skull Practitioners recorded a limited cassette-only debut, st1, which they self-released in 2014. The four-song collection, on which Baker was the lone band member to take a vocal, marked the start of a long hunt for the right voice. "We kept looking for a new singer, and that person never came," says Victor. "None of us wanted to sing at all. After a while, we had been together as a three-piece for so long that we had our thing, and it became difficult for someone to fit into it. So we pulled a Genesis! The best thing about it is that now all three of us will sing, and that takes the pressure off just one of us." Levine adds, "Whoever writes, sings. It's their expression, so they should say what they have to say."
On 
Negative Stars
, Levine performs 
"Dedication"
 and 
"What Now,"
 and Victor sings 
"Exit Wounds," "Leap," "Intruder,
" and "
Ventilation."
 The album's expansive instrumental tracks are 
"Fire Drill"
 and Skull Practitioners' longtime club highlight 
"Nelson D,"
 which first appeared on 
st1
 in a live version. Each player brings something uniquely his own to the mix.
Skull Practitioners have also begun to take to the stage more regularly: they have opened shows for Lydia Lunch, Hammered Hulls, Live Skull, and In the Red label mates the Wolfmanhattan Project (Kid Congo Powers, Mick Collins, and Bob Bert) and will be opening for Jon Spencer & The HITmakers at TV Eye in New York on February 4th, with more shows to be announced.
Says Levine, "I think the band is represented at its best in a live setting. That's where we're in our element. Playing live, we're out for blood." Victor adds, "With the live thing, we just want to destroy, in the nicest, most friendly way — we're nice people. Someone said about us, 'These guys look like a bunch of accountants.' People don't really know what to expect before they hear us. I think they're all a little surprised, maybe, and we like having that element of surprise – 'We're gonna blow your minds a little.'"
Live Shows (more to be announced):
February 4 Ridgewood, NY 
TV Eye
 (w/ Jon Spencer & The HITmakers)