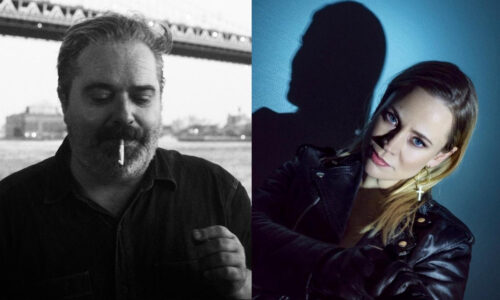 Alan Braxe has released new song "Never Coming Back" featuring Norwegian pop artist Annie, and the newly remastered "You'll Stay In My Heart," a tear-jerking Alan Braxe and Fred Falke work previously found only on CD compilations and unofficial mixes. Both appear on the upcoming reissue of his 2005 cult classic compilation album The Upper Cuts, due out March 31 on Smugglers Way. "Never Coming Back" comes via a video by animator Sophie Koko.
"I first met Annie virtually, just listening to her vocals as I was remixing her song 'Heartbeat' in 2005," says Braxe. "I could hear in her voice both softness and strength and I found it very touching. Since then I always thought that we should work on a song one day. Last year I sent her an instrumental demo and when she then told me that she was up for it, we recorded the vocals in Bergen, Norway and chose the theme of escaping a problematic relationship and regaining freedom."
"I've been such a fan of Alan Braxe and the universe of French house for years," says Annie, "and to me it's the ultimate party music… takes me to the best place every time I listen to these ultimate classics. Years ago Alan B did a brilliant remix of my own single 'Heartbeat,' so it was so fun to do a track together after all this time. 'Never Coming Back' is basically about someone getting out of a toxic relationship. Tired of the past, looking for the future, and this time you're finally on your own and ready for something new."
Alan Braxe will celebrate The Upper Cuts reissue with a release party on April 7 at NYC's Le Bain featuring DJ sets by himself as well as The Dare, Orson, and Lauren Murada. The event is free; RSVPs are open HERE.
The Upper Cuts features newly remastered versions of Braxe's tracks with Fred Falke, his remix of Shakedown's "At Night," and two of his most beloved and influential collaborations – The Paradise's "In Love With You," the elegant slice of heartbreak house he created with vocalist Romuald Louverjon, and Stardust's "Music Sounds Better With You," the worldwide hit he produced with Daft Punk's Thomas Bangalter and singer Benjamin Diamond, which is celebrating its 25th anniversary this year. The Upper Cuts (2023 Edition) also adds seven bonus tracks, including Braxe's remix of Britney Spears' "Anticipating," and two completely new tracks "True Love" and "Never Coming Back" (feat. Annie).
The Upper Cuts, originally released in 2005, rounds up several of Braxe's greatest hits, including "Music Sounds Better With You," his classic remix of "At Night" by Shakedown and – most prominently – his work with Fred Falke, a bass player Braxe met on military service. Braxe and Falke's union created some of the best house music records of the 2000s, with Falke's slinky, melodious and very funky bass lines fitting like a glove around Braxe's production know-how and ear for a melody.
The Upper Cuts is a classic work of house music history that can still light up a dance floor; a work of sadness and joy; darkness and light; profundity and release. If you want to know how Braxe helped to create a new template for the French house sound in the early 2000s, right when French house needed it most; or how Braxe's gorgeously clean productions and evocative synth melody provided a bridge between the first wave of French house and the Ed Banger / Justice / Kitsuné axis that followed; then your answer starts here.
The Upper Cuts (2023 Edition) will be available for the first time as an album on DSPs and will be available in black vinyl, limited edition colored vinyl, and CD on March 31.