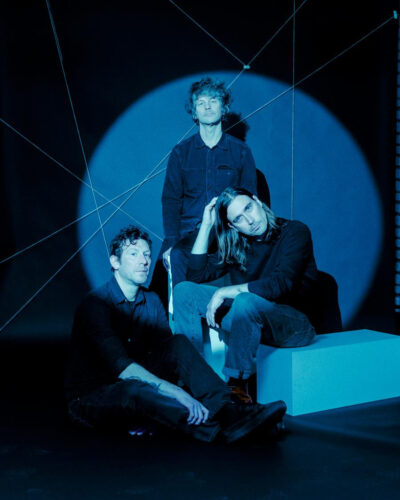 On their forthcoming album Still Life in Decay, Chicago's FACS have never been more solidified as a unit. The trio has been perfecting its brand of intense, cathartic art rock over the course of four ever-evolving albums, and Still Life in Decay is their most focused effort. The apocalyptic chaos that once defined them is waved away in favor of an examination of events with cumbrous clarity.
On display is today's premiere of the album's second single, "Slogan"; the song's meditative guitar and ruminating rhythm section show the band at the peak of their powers. Bassist Alianna Kalaba, who stepped in for founding member Jonathan Van Herik in 2018, makes her amicable last stand on this album. Alongside drummer Noah Leger, they dance and twist around each other like a double helix, forming the DNA of what makes FACS so special.
Recorded by Sanford Parker at Chicago's esteemed Electrical Audio, Still Life In Decay will be available April 7, 2023 from Trouble In Mind Records.
Pre-order the record here and see FACS on tour throughout the year, including the newly announced west coast tour dates:
FACS, on tour
April 6 Milwaukee, WI @ Cactus Club
April 7 Chicago, IL @ Empty Bottle
April 8 Chicago, IL @ Empty Bottle
May 15 Pittsburgh, PA @ Government Center
May 16 Washington, DC @ DC9
May 17 Philadelphia, PA @ PhilaMOCA
May 19 Providence, RI @ Fete Lounge
May 20 Montreal, QC @ La Sotterenea
May 21 Toronto, ON @ The Garrison
June 12 St. Paul, MN @ Turf Club
June 13 Moorhead, MN @ Harold's on Main
June 16 Seattle, WA @ Vera Project
June 17 Portland, OR @ Doug Fir
June 19 Sacramento, CA @ Starlet Room
June 20 San Francisco, CA @ Bottom of the Hill
June 21 Los Angeles, CA @ The Echo
June 22 San Diego, CA @ Soda Bar
June 24 Denver, CO @ Hi-Dive
June 25 Kansas City, MO @ miniBar
June 26 Davenport, IA @ Raccoon Motel
July 28 Indianapolis, IN @ Post. Festival