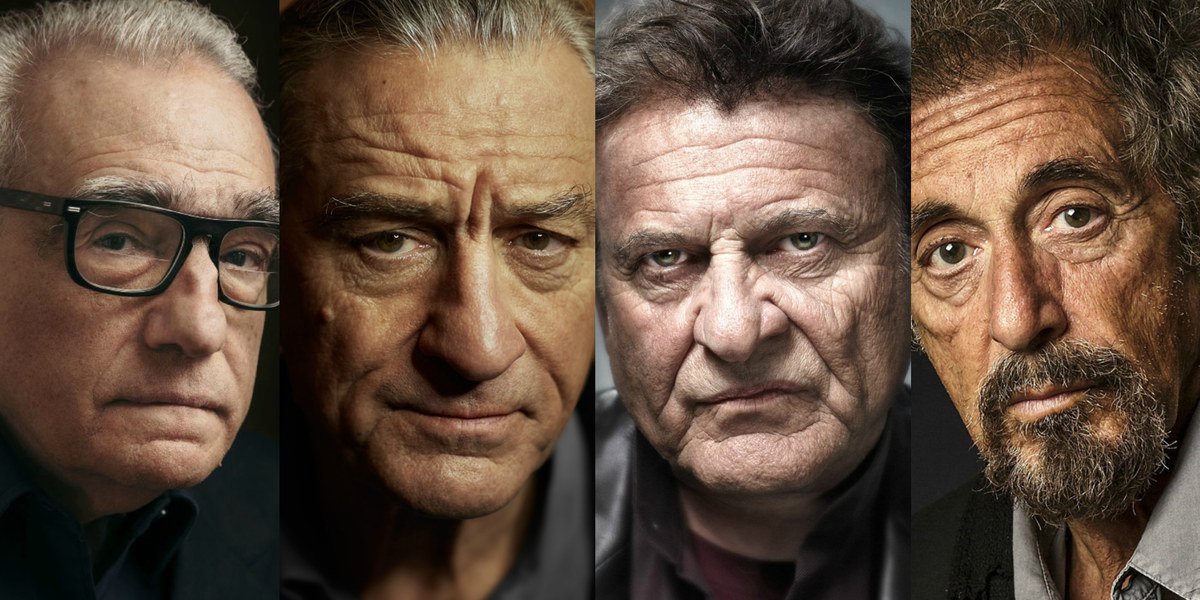 Martin Scorsese is obsessed with the mob and criminality. There I said it, and it appears he is taking us for another ride into that world as only he can. The historic criminal underworld is a topic and time period he returns to time and time again. And frankly we can't get enough. Hoping to catch lightning in a bottle once again Scorsese is tripling down with three of acting's heaviest hitters Robert De Niro, Al Pacino, and Joe Pesci. Brought back out of unofficial retirement, The Irishman will mark the first time Pesci has worked with Scorsese since 1995's Casino. As if the dream team of De Niro ,Pesci and Scorsese wasn't enough, we are finally treated to the long awaited entry of Al Pacino into "the family".
Based on true events from the 2004 book I Heard You Paint Houses by Charles Brandt, The Irishman set for releaase in November, tells the tale of mob hit-man and Teamster official Frank "The Irishman" Sheeran. Besides being a WWII veteran Sheeran alleges to have had personal dealings in the JFK assasination and Bay of Pigs invasion as well as taking responsibility for the murder of Jimmy Hoffa. The film sees De Niro portraying Sheeran and Pacino handling the role of ill-fated teamster leader Jimmy Hoffa. Joe Pesci plays Russell Bufalino a notorious Northeastern Pennsylvania mafia crime boss. Other big name actors like Harvey Keitel, Anna Paquin, and Ray Romano make appearances as well.
The trailer begins with a slow crane shot following a shadowy figure crossing the street. The shot has a beautiful blueish tint. The sound of an ominous telephone rings in the foreground then a menacing "hello". The sound drops into a dirge sound foretelling the audience of brutal wrong-doings ahead. Here we see our first glimpse of Pesci, already in fine form doing what he does best. Passing the phone to De Niro (Sheeran) we see and hear Pacino portraying Jimmy Hoffa. Then a crazed wail stabs out ramping up the tension. Next we see the type of mafia establishing shot that Scorsese is known for. Pesci (Bufalino) passes another character an ornate gold ring, with religious reverence, as we listen to Pacino (Hoffa) say the line "I heard you paint houses" as a wink to the book title. De Niro brutally murders a target in front of a diner in a cold calculated fashion, a departure from the psychotic killers Pesci imbued in earlier Scorsese films.
The film reportedly costing $159 million to make, shows where some of the budget went with the use of de-aging technology for De Niro. The next few establishing shots show the compartmentalization of Frank towards his family in much the same way The Iceman Richard Kuklinski spoke of in The Iceman Tapes: Portrait of a Killer. What appears to be war profiteering and dockworkers destroying taxi cabs by the mob/teamsters reveals elements of the era. The next series of images are jump cuts teasing the audience with violence and historical features such as the rigged JFK elections and assassination. Sheeran speaks the line "sooner or later everybody put here has a date when he's gonna go" no doubt relating to the audience his grim practical view of mortality. A beautiful slow motion shot of a Lincoln Continental drifting through an automated car wash sees Sheeran in a moment of deep contemplation. The words "do you want to be a part of this history Frank" are almost symbolic of making a deal with the devil and hearkens back to a line from The Godfather "do you renounce Satan and all his works".
The question this trailer presents is…will this film be any good or are we going to see rehashing of character types and historical aspects already crafted from Scorsese's earlier works. Fingers crossed that this group of veteran actors can bring something fresh to some otherwise stale caricatures of themselves from recent performances. Also how will this film stand up against 1992's Hoffa directed by Danny DeVito starring Jack Nicholson. Only time will tell if master film maker Martin Scorsese has another "mob hit" under his belt. It may be a ride we have been on before but who among us doesn't enjoy a trip down memory lane from time to time.
Dave Dembitsky
Contributing Writer at Custom Made Music Magazine