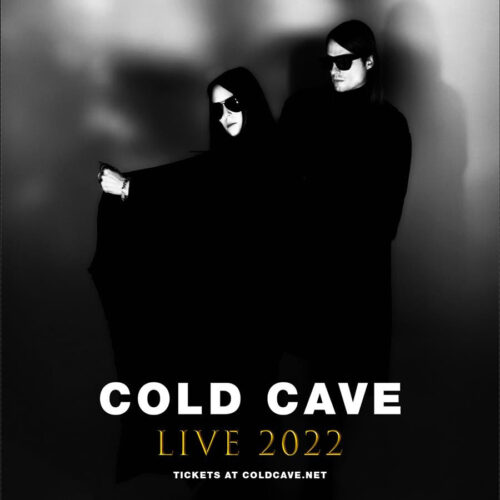 Cold Cave resume their ascension with a string of headline tour dates this summer/fall.  The band will spend September and October on the road, with several headlining appearances including festivals Cold Waves (Chicago + Brooklyn), Dark Mad (Madrid) and Levitation (Austin) — all tour dates can be found below and tickets are available at coldcave.net.  Additionally, Cold Cave have unveiled a cover of Psychic TV's 1985 triumph "Godstar," mixed by John Fryer (Cocteau Twins, Depeche Mode, Nine Inch Nails), ahead of the tour dates.
Furthermore, Cold Cave front person and multi-disciplinary artist Wesley Eisold has a rare poetry reading at San Francisco's revered Green Apple Books on September 9th.
Eisold's body of work reverberates throughout the subterranean arts scene and beyond, influencing underground and popular culture with his deft and nimble artistic vision. Eisold has also has spent the last 16+ years building Heartworm Press, the imprint which he releases recordings and writing.  Blossoming from cassettes and fanzines to offset printed books, deluxe vinyl, curated collections, multi-media and an annual literary journal of contemporary and classic cultural figures, Heartworm is a force to be reckoned with in the independent literary world.
Most recently, Eisold released a trilogy of books with friend and creative collaborator Mark Lanegan.  The duo wrote and released Plague Poems (June 2020), Year Zero – A World With No Flowers (May 2022), and Ghost Radio (May 2022) on Heartworm.  Each installment features 23 poems by the writers, and the latter two collections were released posthumously after the heartbreaking loss of Mark Lanegan last February.  Eisold also unveiled a podcast series of intimate, late-night conversations between himself and Lanegan titled "After Dark with Wes and Mark" which you can check out here.  Heartworm Press will continue its prolific output this year with new book releases from Alan Vega, Genesis P-Orridge, and more— look for more news to surface soon.
Cold Cave have released an astounding number of singles, LP's, EP's, and compilations, and have become synonymous with the modern-day resurgence of darkwave and synth-pop. Long-running luminaries of the underground, Eisold along with multi-instrumentalist Amy Lee carry the torch for modern post-punk.  Their latest release, Fate in Seven Lessons (2021, Heartworm Press), encompasses all of Cold Cave's past while moving into the future. Revisit the music video for the album's single "Psalm 23," which shows the band performing in their studio surrounded by 23 candles given to Eisold from Mark Lanegan here.
More news from Cold Cave + Heartworm Press in the near future.
Cold Cave, on tour in September + October:
September 8  San Francisco, CA @ The. Chapel *
September 9  San Francisco, CA @ Green Apple Books **Wes Eisold Poetry Reading**
September 9  San Francisco, CA @ The. Chapel *
September 10  Los Angeles, CA @ The Greek Theatre ^
September 16  Brooklyn, NY @ Warsaw (Cold Waves Festival) *
September 23  Chicago, IL @ Metro (Cold Waves Festival) *
October 14  Madrid, SP @ Dark Mad Festival %
October 30  Austin, TX @ Empire Control Room (Levitation Festival) *
* headline show
^ w/ Placebo
% co-headline w/ The Human League