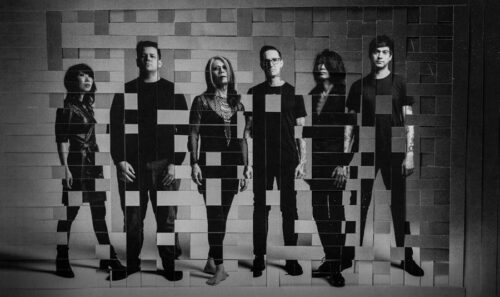 On June 16th, Boris and Uniform will unleash their ferocious collaborative LP Bright New Disease. The album captures the fearless exploration and unbridled power of both bands' live performances. Boris's rock heroics, lysergic sprawl, and monolithic sludge are met by Uniform's mechanized bombardments and frenzied assaults. "It sounds like the crystalized essence of both bands at the heights of their creative abilities," says Uniform's Michael Berdan. "It is a testament of friendship and hope in the face of a world on fire."
Today, the album's harrowing second single "Not Surprised" has surfaced. The track— the album's closer— was written with its position on a setlist in mind. "I thought it would be appropriate for the last song on the album," says Boris's Atsuo, "and I imagined that it would be just as cathartic if we played it at the end of the show as well." On "Not Surprised," the amps are on ten; the sparring drums collide and collapse; everything vibrates to the same gut-liquifying frequency.
The lyrics to "Not Surprised" are just as vital. Berdan comments, "I've struggled with mental health issues for my entire life. Although years of hard work, medication, and a support network help immensely at keeping the internal violence of my mind at bay, some days will always be a little worse than others. This song is about the inherent loneliness of those bad days. The level of antipathy I feel towards the entire human race as I'm forced to function around regular people who seem to be just enjoying their life goes beyond words, but I tried to say it here anyway."
"Not Surprised" arrives alongside a brilliant music video directed by A.F. Cortes. He comments, "I wanted (and had to) approach this piece from a visceral and experimental perspective. After listening to the song, I created a dark and surreal film reflecting the track's themes and mood, leaving my comfort zone and turning some of my processes upside down– literally." Cortes continues, "The overarching theme of the piece is a cycle of violence; this is my interpretation of the music, not necessarily the authors'. We live in a never-ending cycle of violence; humans are as good at creating as destroying. In the video, the hunted becomes the hunter and then is hunted again. But who wins?"
Bright New Disease came to fruition after the bands toured together in 2019, and Boris invited Uniform to team up on a reimagined version of their classic "Akuma no Uta." There was an obvious chemistry between the artists, and they spent the next year swapping song ideas and recordings from their home base studios until Boris and Uniform had an album that captured the fearless exploration and unbridled power of their live performances.
"On tour, we learned more about the depth of their musicality, which we felt was compatible with our own expression," Boris's Atsuo and Takeshi say of Uniform. "They are a band that can be described in many ways—punk, metal, industrial—but they truly excel because they are not locked into any style. They are always experimenting and innovating." The feeling was mutual. "Uniform have been longtime fans and admirers of Boris. Supporting them on tour was a dream come true," says Uniform vocalist/electronics wrangler Michael Berdan. Guitarist and producer Ben Greenberg was equally excited by the opportunity to team up with Boris and shape the recording of Bright New Disease in his studio. "Wata is one of my favorite guitar players ever, so I'm very stoked we got two dueling solo tracks on this record," Greenberg says. This isn't to say there wasn't also a shared appreciation for certain classics, particularly when it came to Japanese hardcore. "The first time I met Atsuo he was wearing a Gastunk shirt, and Takeshi has schooled me harder on Burning Spirits than any fetishist westerner could ever hope for," says Berdan.
From "You Are The Beginning" onwards, the album continues its relentless assault with "Weaponized Grief," a fevered mashup of Japanese D-beat and Boredoms' deliberately mismatched sonic textures. There isn't a moment to sift through the wreckage before the bands launch into "No," a deliberate nod to the Japanese hardcore homage of Boris's 2020 album NO. Respite finally comes with the glacial amplifier worship of "The Look is a Flame," a Boris-penned song meant to evoke light and salvation over gloom and cruelty. Further heightened by the cosmic synth work of Randall Dunn and the groaning bass of Steve Moore, it retains the ominous timbre of the album while also hinting at the possibility of redemption.
The album's timbral palette continues to broaden on the latter half of Bright New Disease, such as on the standout track "Narcotic Shadow." Constructed around Berdan's modular synth arpeggios, aided by Boris's dark wave / new romantic-inspired vocals, and abetted by Ben Greenberg's warped studio manipulations, the song offers up a sleazy and woozy counterpoint to the unbridled rage of the album's first half. Similarly, "A Man From the Earth" feels less centered on catharsis and more fixated on a gritty, buried-in-the-red spin on David Bowie's glam years.  But these deviations only serve to make the album closer and second single, "Not Surprised," all the more bleak and anguished.
Boris Live Dates:
24/05/23: Krawkow, PL – Kwadrat
25/05/23: Brno, CZ – Kabinet Muz
26/05/23: Innsbruck, AT – Heart Of Noise Fest
27/05/23: Fribourg, CH – Fri-Son
28/05/23: Turin, IT – Jazz Is Dead Festival
29/05/23: Bologna, IT – Freakout Club
30/05/23: Milan, IT – Legend Club
01/06/23: Barcelona, ES – Primavera Sound
03/06/23: Lisbon, PT – ZDB
04/06/23: Braga, PT – Gnration
08/06/23: Madrid, ES – Primavera Sound
Uniform Live Dates:
28/06/23: Hamburg, DE – Hafenklang
29/06/23: Roskilde, DK – Roskilde Festival
30/06/23: Stockholm, SE – HUS7
01/07/23: Göteborg, SE – Hemligheten
02/07/23: Malmo, SE – Plan B
04/07/23: Lodz, PL – Przestrzen
05/07/23: Warsaw, PL – Voodoo
06/07/23: Berlin, DE – Urban Spree
07/07/23: Tilburg, NL – Little Devil
08/07/23: Ypres, BE – Ieperfest
10/07/23: Nijmegen, NL – Merleyn
11/07/23: Paris, FR – La Boule Noire
12/07/23: Antwerp, BE – AMC
13/07/23: Leipzig, DE – Soltmann
14/07/23: Kutna Hora, CZ – Creepy Teepee Festival