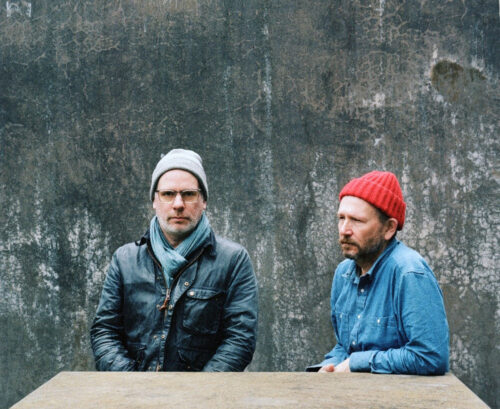 Sons Of, the new duo of Sam Prekop and John McEntire, have announced the long-awaited vinyl pressing of their debut self-titled album. Named Pitchfork Best New Music on its original release last year and racking up numerous "best of 2022" mentions, the album now receives an extended 2xLP limited-edition pressing on white vinyl, featuring the new track, "A Drink At The Banquet." Also available on limited Sea Glass vinyl, the 2xLP edition will be out on June 23rd.
Sam Prekop and John McEntire are two artists, who together and as individuals, have expanded the definition of rock. Each is acclaimed for their singular musical voice and for their sonic innovations. Beyond their work together in The Sea and Cake, Prekop has garnered acclaim for his solo releases in ensemble or on modular synthesis, as well as for his visual art and photography. McEntire is one of the most celebrated engineers, composers, and drummers in forward-thinking music, having recorded and performed with the likes of Tortoise, Stereolab, Modest Mouse and many more. With nearly three decades of experience working together, this is their first full-length collaboration as a duo. It was something they both have wanted to do for a long while, and a natural fit for two artists drawn to incorporating electronic music into rock and jazz contexts. Sons Of finds two master craftsmen working at the nexus of pristine production and skillful improvisation, forging compelling narrative arcs into glistening metropolises of infinite pulse.
Listen to the track "A Ghost At Noon" below and get the record here.