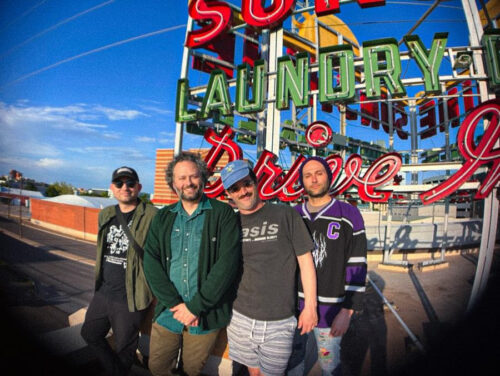 Oklahoma's Chat Pile released their critically acclaimed debut full-length God's Country almost a year ago. The time since has been nothing short of a whirlwind; Chat Pile received countless year-end accolades, scored a film, toured the west coast with Lingua Ignota, played highly coveted sets at this year's Roadburn and Caterwaul festivals, confirmed additional festival appearances at Oblivion Access, ArcTanGent, Substance and more, and now have announced details for a long-awaited east coast/midwest headline tour in September + October. Support on all shows will be Nerver, with select dates featuring support from The Holy Ghost Tabernacle Choir, Empire State Bastard, and more.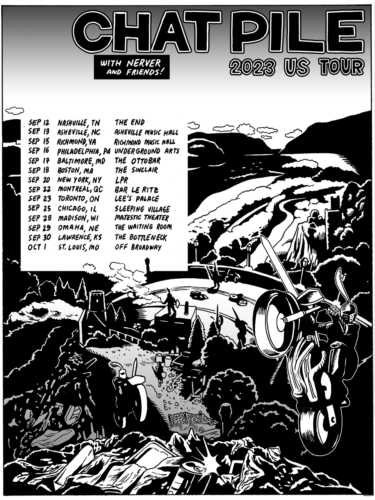 Chat Pile comments, "We told everyone for the longest time that you'd probably never see Chat Pile on the road for any extended period of time. Well, turns out we had no idea what we were talking about. Sometimes miracles do happen, and sometimes they're kind of low-rent and inconsequential. We're looking forward to hanging out with our friends in Nerver, as well as the other extremely cool bands joining us on this run."
Formed in 2019, Chat Pile have made a profound impression since their start. Comprised of Raygun Busch (vocals), Luther Manhole (Guitar), Stin (Bass), and Captain Ron (Drums), the noise-rock quartet released two E.P.'s followed by the benchmark God's Country LP in their first three years as a band. In the last year alone, they scored the Tenkiller motion picture soundtrack, released a split E.P. with their friends in Nerver, and now continue their upward trajectory with this headline tour.
Stay tuned for more news from Chat Pile to close out this year and as they continue to work on LP2.
Chat Pile, on tour:
June 15 Austin, TX @ Oblivion Access
June 16 Austin, TX @ Oblivion Access
August 14 London, UK @ The Dome
August 15 London, UK @ The Dome
August 17 Bristol, UK @ ArcTanGent
August 18 Manchester, UK @ Rebellion
August 19 Glasgow, UK @ Core. Festival
September 12 Nashville, TN @ The End ^
September 13 Asheville, NC @ Asheville Music Hall ^
September 15 Richmond, VA @ Richmond Music Hall ^
September 16 Philadelphia, PA @ Underground Arts *
September 17 Baltimore, MD @ The Ottobar *
September 18 Boston, MA @ The Sinclair *
September 20 New York, NY @ LPR %
September 22 Montreal, QC @ Bar Le Ritz $
September 23 Toronto, ON @ Lee's Palace $
September 25 Chicago, IL @ Sleeping Village #
September 27 Madison, WI @ The Majestic Theater ~
September 29 Omaha, NE @ The Waiting Room ~
September 30 Kansas City, MO @ The Bottleneck ~
October 1 St. Louis, MO @ Off Broadway ~
November 9 Los Angeles, CA @ Substance Festival
^ w/ Nerver, The Holy Ghost Tabernacle Choir
* w/ Nerver, Intercourse
% w/ Nerver, Empire State Bastard
$ w/ Nerver
# w/ Nerver, Urine Hell
~ w/ Nerver, Nightosphere