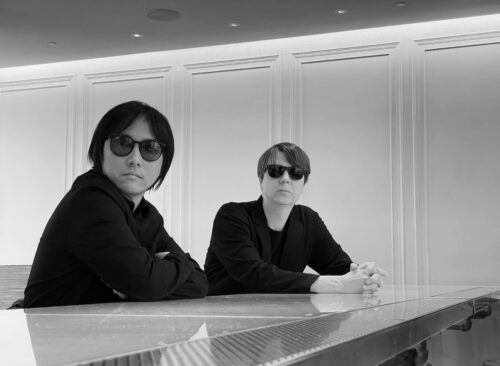 The Dayoffs is a collaboration of Vladimir Komarov and Atsuo Matsumoto. They met at legendary Stratosphere Sound Studios, NYC in 2012, when Vladimir was tracking down for one of his projects and Atsuo happened to be engineering the sessions. Soon they teamed up to produce a bunch of records.
I sat down with the duo to talk about their early musical experiences,  how they shaped their sound and the making of their latest release "Fireflies" which you can get here.
CMM-What was the first music that really made an impact on you all growing up and what artists and bands did you all enjoy the most?
V: I'm absolutely sure it was The Beatles. But not even The Beatles but it's cover band The Bootleg Beatles. I was a soviet 6 (almost 7) years old kid – it was early September 1982. You should understand that at that time Western rock music was forbidden in the USSR, we had only 2 government TV channels that sometimes streamed patriotic songs. For some strange reason The Bootleg Beatles' black and white video for Love Me Do cover was streamed on Sunday morning music show!!! And it blew me away completely!!! Many years later came DM's Music for the Masses, then DK's Give Me Convenience or Give Me Death, then SY's Daydream Nation, then MBV's Isn't Anything… But that's another story…
A: My case was Oasis around the time they released their 2nd album, "(What's the Story) Morning Glory?". My buddy from middle school let me listen to it, and I started listening to bands from the US, UK and Europe since then.
CMM-When did you all first start playing instruments and making your own music and how did you meet and form The Dayoffs?
A: My first instrument was the Yamaha acoustic guitar that I got when I was in middle school. Then, I started playing electric guitar and bass in a few different bands formed with a group of friends. Beside of The Dayoffs, I'm playing bass for a NYC based band, Camera2.
V: I started my first band on September 1st, 1991, with my classmates in Novosibirsk (Siberia). We called it Hot Zex and played post-punk/shoegaze/whatever… About 12 years later our side-project Punk TV suddenly and very surprisingly became quite big in Russia. With Punk TV we relocated to Moscow, released 4 albums, toured most of post-Soviet countries and Europe, and had some releases in the UK and US. I moved to NYC in 2011 and met Atsuo at the Stratosphere Studios…
A: … yes – Vladimir and I met at Stratosphere Sound, the recording studio I used to work. V came to the studio to work on his project one day, and I happened to be engineering the session. We had similar tastes in music and soon became good friends. We also found out later that we have the same birthday. It was probably in 2012, and I was working in the studio on my birthday that year. V gave me a call and asked me to come out for drinks because it was his birthday. I was like, "For real? My birthday is today, too!" That's how we found out we have the same birthday. Good reasons to start a band, I think.
CMM-The group recently released a really beautiful new E.P. called "Fireflies". What was the recording process like? Any notable pieces of gear that you used throughout the sessions?
A: V brought in the demo, and we pretty much went from there. We added some guitars, synths and effects. And my mentor, Alex Newport did such an amazing job adding spacey/glitchy guitars and synths. Once we got all the parts, we mixed down the track and passed it to our mastering engineer, Yuri Danilin who always delivers killer mastering!
V: We used some old computers with strange synths and plugins as well as our guitar pedals. We tried to make a record that would become different in sound and shape from your previous album.
CMM-If the group could collaborate on an album with another band or musician who would it be and what direction do you think the music would go in?
A: I'm not sure at this point, but we are always open for new stuff.
V: We need a drummer to unpack our guitars – and the best drummer in my opinion is Steve Shelley, but I know it will never happen)))
CMM-What do you have coming up next? Any new recordings or shows?
A: The new album "Two-Phase" ("Fireflies" is one of the tracks on the album) is coming out on July 7th, and we might also release another single before then. Plus, we've already started working on new materials. Hopefully, we can release them in a short span.
V: Nobody knows what's going to happen next. Maybe we will take our acoustic guitars to Nashville…)))