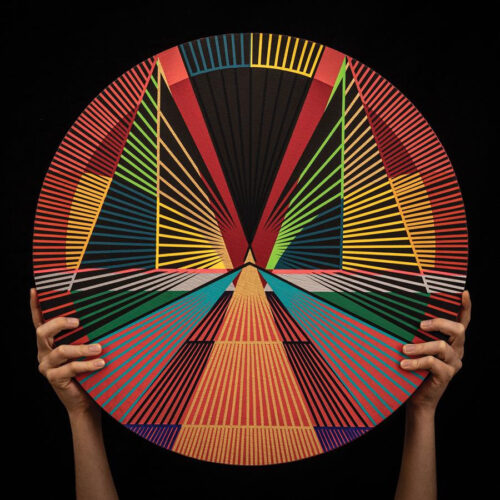 Your Love Life Get You Down, Patterson returned the full-band approach while taking the crucial lessons he learned from working on Prisyn.
It was a gradual and uncertain process, but Patterson was in a much different headspace than he'd been in the past, having come out on the other side of a dissolved marriage and a long period of instability and uncertainty. "I found peace in being accepting of the change," he says. That openness and vulnerability shaped the music and tapped into something that no previous Jaye Jayle album has attained. "I wanted the songs to feel 'devastatingly hopeful'… this is absolutely the most emotionally straightforward album I have made."
A sense of adversity and redemption can be heard across the album— from the odes to intimacy and unfortunate incompatibilities of first single "Black Diamonds and Bad Apples," Don't Let Your Love Life Get You Down conjures an aura of psychedelic grace and enveloping warmth through its pairing of pensive baritone poetics and gospel-infused blues. Of the single, Patterson comments: "I've been doing a lot of self-work since the pandemic. It was a trying time for everyone to say the least. To make the choice of where and how to focus my powers, to be selfless and understanding, and to equally be capable of taking care of myself as well as others. It's a simple song about a very difficult and complex time in my life. It's a song about excepting my recent divorce and the commitment of forever-love regardless of the separation."
Across the eight songs of Don't Let Your Love Life Get You Down, Patterson and his cohorts take the old American singer-songwriter template and imbue it with a kaleidoscope of sonic textures culled from a half-century's worth of fringe music. One of the most critical contributors to Jaye Jayle's multi-dimensional sound comes from producer/multi-instrumentalist Ben Chisholm (Chelsea Wolfe), who was brought into the fold to mix the album. "Ben and I made Prisyn together and I have had one of my favorite musical relationships of my life since then. I consider him the secret member of the band at this point," Patterson says. "Ben's ideas are modern and saturated with layers of sonic color. I always describe his mixing as plush, like a velvet landscape. He is a genius to my ears."
This aural grandeur reinforces the life-affirming radiance of Don't Let Your Love Life Get You Down. Though Jaye Jayle retains the hypnotic repetition and austere instrumentation of their past, the added layers and saturation of sound intensifies the hallucinatory spirit and synesthesia delights only previously hinted at in their work. As with all Jaye Jayle records, it's still best suited for the hours after midnight, but it now holds the promise of dawn.
Jaye Jayle, on tour:
July 25  Birmingham, AL @ Saturn *
July 26  Atlanta, GA @ The Earl *
July 27  Nashville, TN @ DRKMTTR *
July 28  Louisville, KY @ Planet of the Tapes *
July 29  Hammond, IN @ Paul Henry's Art Gallery
July 30  Chicago, IL @ Beat Kitchen *
* w/ Kowloon Walled City