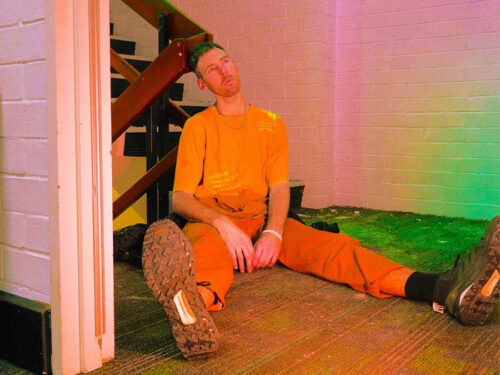 Today Skeleten (Sydney producer / vocalist Russ Fitzgibbon) releases his ethereal new single "Heart Full of Tenderness" – a woozy love song finding beauty in imperfection. Fitzgibbon tells, "There's a whole lot of imperfection in this song, and I think that kinda reflects what I was thinking about. Love that takes in flaws and sadness and break-ups and stays hopeful." The track is the last preview ahead of the release of his debut full-length album, Under Utopia, out July 28 via 2MR (NA) / Astral People Recordings (ROW).
On his thrilling and immersive debut album, Skeleten dares to imagine new ways of being that are not characterised by doom or despair – a challenge in an era defined more by feelings of futility, isolation and precarity. Across eleven tracks of free-flowing, transcendent, and often euphoric electronic music, he plays spiritual guide to a musical journey which is wonderfully in touch with realms beyond our own. Praising the power of comradery and community, dreaming of a future that is joyously boundless, Skeleten's singular debut LP is, to borrow from one of his own lines, music for dancing "any way your body turns."
Under Utopia is a record that prioritises immediate pleasures without forgoing intimacy, reaching outward with inviting choruses and mantra-like melodies. "I think the album came out of the experience of feeling this great desire to reconnect and dreaming of the power of community," says the musician. Tied together by Fitzgibbon's spacious, airy production, the record finds an antidote for the ever-pervasive gloom of contemporary life in the transformative power of love, community and an enduring, determined optimism that gestures toward a better and brighter future just over the horizon.
Russell Fitzgibbon cut his teeth in Sydney's tight-knit electronic community just as the city itself was forging its own identity. Debuting under his solo moniker in late 2020, Skeleten is Fitzgibbon's most personal project to date, the sound of him unfiltered for the first time as both a vocalist and producer. At once intimate and otherworldly, at the core of the project lies a strong sense of uncomplicated openness and a deeply rhythmic, meditative ambience. Strikingly unplaceable, the result is a curious yet alluring amalgam of far-flung influences and emotive atmospheres that invites you to get repeatedly lost in. In between his debut and the long-awaited release of Under Utopia, Skeleten's consistent output has seen him accrue rotation and early praise from Triple J, Double J, XLR8R, Stereogum, NME, Dummy Magazine, BBC Radio 6 Music's Recommends Spotlight Artist, Brooklyn Vegan and receive the official remix treatment from the likes of Logic1000, Moktar and Jennifer Loveless.