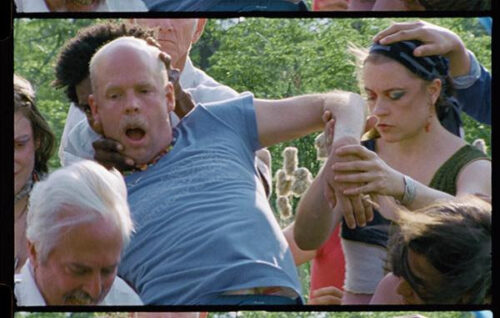 Keeping Secrets Will Destroy You is a tale old as time. It's an album. Its songs and music are by and for people together, for listening together. Bonnie 'Prince' Billy stands at the nexus all the kinds of music he can summon, with friends, with family and community.
Rough and ready, Bonny confronts the tough details of present, future and past with everything he's got on "Crazy Blue Bells": "My hand in my mother's hand and her hand on my daughter, my daughter's hand on the hand of who will lead us into slaughter". Within the resplendent symphony of melodies, emerges Sara Louise Callaway's delicate yet mighty violin, its enchanting presence painting the air with its ephemeral strokes. Raw-voiced, as if back from the wars, the Prince leads the orchestral reverie of voices and strings that envision another tomorrow. Inspirational phrase for today: "Raise a voice to anything, because everything matters."
Director Ray Tintori presents a dazzling visual accompaniment for "Crazy Blue Bells", which can be seen above. Of the experience, Bonny notes: "I believe that it Is apparent that this piece of work is a celebration of gratitude and collective action. It's a multi-generational, cross-discipline effort with implicit resonances into shared pasts and presents. I met director Ray Tintori when he was a small child and I was a slightly larger child. Participating in this visualization of "Crazy Blue Bells" with Tintori, producer Julia Simpson, and a massive consortium of creatives is a joy of my life."
Keeping Secrets Will Destroy You presents simply, and is sung along easily and happily with in time BUT —Is it family portrait or fairy tale? How does it think the world was made, and will end? Get your head unstuck from beyond your thighs and up your crack; find it out for yourself on August 11th.
TOUR DATES:
7/11/23 at Soiled Dove in Denver, CO
7/12/23 at Soiled Dove in Denver, CO
7/13/23 at The Armory in Fort Collins, CO
7/14/23 at Lulu's Downstairs in Manitou Springs, CO
7/15/23 at TACAW (The Arts Campus at Willits) in Basalt, CO
All above dates with Faun Fables
9/7/23 at The Old Quarter in Galveston, TX
9/8/23 at The Old Quarter in Galveston, TX
9/9/23 at The Heights Theater in Houston, TX
9/11/23 at Lightnin' Bar in Elgin, TX
9/12/23 at Parish in Austin, TX
9/13/23 at Parish in Austin, TX
9/14/23 at The Texas Theatre in Dallas, TX
9/15/23 at Lonesome Rose in San Antonio, TX
9/16/23 at The Crowley Theatre in Marfa, TX
All above dates with Myriam Gendron
10/1/23 Rialto Theatre Montreal Quebec Canada*
*solo performance
10/17/23 at 191 Toole in Tuscon, AZ
10/18/23 at Musical Instrument Museum in Phoenix, AZ
10/19/23 at Coconino Center for the Arts in Flagstaff, AZ
10/20/23 at Fusion 708 in Albuquerque, NM
10/21/23 at Taos Center for the Arts in Taos, NM
10/22/23 at San Miguel Chapel in Santa Fe, NM
All above dates with Laurel Premo
11/14/23 at 25 Carrick in Pittsburgh, PA*
*solo performance
11/16/23 at Joe's Pub in New York, NY
EARLY SHOW
11/16/23 at Joe's Pub in New York, NY
LATE SHOW
11/17/23 at Philadelphia Ethical Society in Philadelphia, PA
EARLY SHOW
11/17/23 at Philadelphia Ethical Society in Philadelphia, PA
LATE SHOW
11/18/23 at Sixth & I Historic Synagogue in Washington, DC
All above dates with Jon Langford
11/19/23 at Jefferson Theatre in Charlottesville, VA*
*solo performance