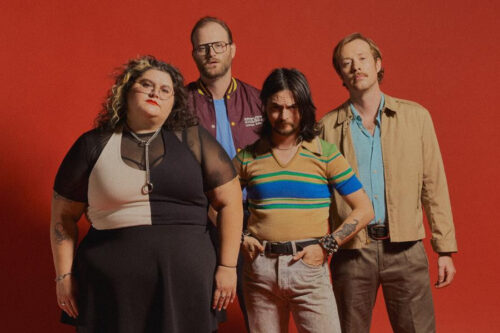 History has shown that the greatest bands–bands with that certain, ever elusive quality called lasting power–neither conform to nor buck the trends of their time, but rather force the times to catch up to them.  Sheer Mag has such lasting power in droves. After almost a decade spent carving out a career that has already become the stuff of modern underground legend, the band's new stand-alone single, "All Lined Up," comes alongside the announcement of their signing to Third Man Records–their first partnership with a larger independent label–who will also be physically and digitally re-releasing the entirety of Sheer Mag's back-catalogue, including their cult-beloved early EPs I (2014), II (2015), and III (2016), as well as their first two breakthrough LPs, Need To Feel Your Love (2017) and A Distant Call (2019).
Sheer Mag's sensibility, as fervently beloved by baseball-tee clad garage rockers and tattoo-less indie kids as it is by leather-and-stud-loyal punks, finds its strength in an unconventional mixture of refined complexity and straight-forward pop prowess. Seamlessly trading between head-turning guitar heroics and a charmingly timeless blend of disco, hard rock, and garage inflected hooks, Sheer Mag's oft-referenced, never-replicated sound has played an undeniably large role in stoking the current resurgence of interest in power-pop forward rock music. While quickly adopted as a fan-favorite amongst the sweat-caked crowds of the early 2010's underground, time has attested to Sheer Mag's singular cultural mutability: though never straying too far from their home-town Philadelphian origins.
The move to Third Man comes at a pivotal moment in the band's career. Never content to rest on their street-cred laurels, Sheer Mag has been hard at work pushing their idiosyncratic take on rock to ever more soul gripping, sonically compelling highs. "All Lined Up" perfectly renders the intensity of Sheer Mag's commitment to songcraft, layering direct, delightfully sweet-turned-sour guitar licks and swirling call-and-response vocal hooks over a throbbing drumline, evoking the anxiously excited, contemporary-Studio-54-tinged thrill of not knowing exactly what you just took, but feeling assured that—whatever it is—the night is about to get a whole lot more interesting.
The song, and accompanying video, peddles in themes of high-risk anticipation and the bleary-eyed romance of a late night spent amongst old friends, distilling Sheer Mag's patent ability to access universal human emotions through small-time tales of after-hours city life. As the band puts it, "The genesis of 'All Lined Up' stems from late nights at the bar playing pool. Last call has long come and gone, the gate is down, the ashtrays are out and your friend behind the bar is giving it all away. Despite the revelry, there's a looming sense of dread—a fear that no matter how far ahead you get, all it takes is one bad shot to lose the game." 
Both a quintessential "connoisseur's band" and pop-populist darlings, Sheer Mag's return offers something for everyone, from the long-time fan who would recognize their distinct sound on the drop of a hat, anxiously awaiting the next development in their genre-pushing journey, to the newcomer looking to jump straight to the source of what makes rock compelling today. Operating in a timeline which is theirs alone, both Sheer Mag's newest offering and re-released catalogue are essential listening for serious rock listeners, a testament to the elusive star-power it takes to carve out a path of one's own in the world.
Of the partnership, Third Man Records' Ben Blackwell reveals, "Having been aware of Sheer Mag since their earliest 7-inch singles and keeping up with their self-released, independent DIY take-no-prisoners ethos, I never envisioned a world where they would ever sign to a record label. So imagine how ecstatic we were at Third Man when the band reached out to us directly and asked if we'd be interested in partnering with them. Still doesn't seem real. We are beyond honored, humbled really, to receive their handshake and their trust. This is gonna be fun as shit."
Each catalogued album will be re-released October 27, 2023 on black vinyl and limited edition color wax — Compilation (I, II, & III) on metallic gold vinyl, Need to Feel Your Love on coke clear vinyl and A Distant Call on clear red vinyl. The color variants will only be available at Third Man storefronts and independent retailers. For more information or to pre-order, go here.
Sheer Mag have stayed busy writing and touring vigorously over the past few years. Next month they hit the East Coast and have just announced a Fall run with labelmates Hotline TNT. See below for a full list of dates.
Sheer Mag Live Dates:
Aug 15: Winooski, VT – The Monkey House
Aug 16: Montreal, QC – La Sotterenea
Aug 17: Toronto, ON – Nineteen Seventy Eight
Aug 19: Pittsburgh, PA  – Skullfest
Aug 20: Richmond, VA  – Cobra Cabana
Aug 21: Durham, NC – The Pinhook
Aug 22: Washington, DC – Comet Ping Pong
Aug 23: Baltimore, MD – Holy Frijoles
Oct 03: Portsmouth, NH – The Press Room !
Oct 04: Hamden, CT – Space Ballroom !
Oct 05: Garwood, NJ – Crossroads !
Oct 06: Norfolk, VA – Chicho's !
Oct 08: Atlanta, GA – The Earl !
Oct 10: Memphis, TN – Growlers !
Oct 11: St. Louis, MO – Blueberry Hill Duck Room !
Oct 13: Lawrence, KS – Bottleneck !
Oct 14: Minneapolis, MN – Snow & Flurry Fest !
Oct 15: Milwaukee, WI – X-Ray Arcade !
Oct 16: Detroit, MI – Third Man Records !
Oct 17: Cleveland, OH – No Class !
Nov 28: Boston, MA – Royale ~
Nov 29: New York, NY – Webster Hall ~
Dec 01: Philadelphia, PA – Union Transfer ~