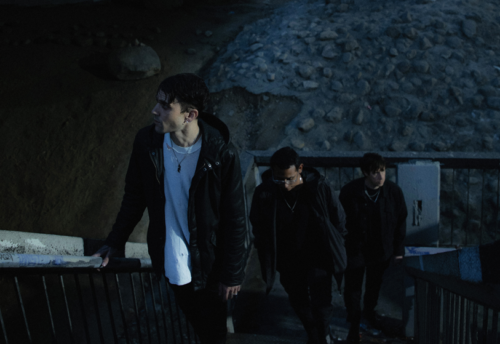 Today, FEARING have released their sophomore LP Destroyer which sees the trio migrating towards the sonic realms that capture the fine equilibrium allying the somber, austere, the vigorous, and vibrant. A striking singular vision of abyssal maritime desolation, Destroyer showcases a more energetic side of the band with a stripped down three-piece lineup and a more minimal sound. The album pushes and pulls the boundaries between dark and pop music with a much more urgent feel than their previous releases.
Since their debut EP A Life Of None (2017), followed by their widely celebrated Black Sand EP (2018) and debut LP Shadow (2020), FEARING have cemented themselves at the apex of today's post-punk and darkwave movements.
FEARING was created by James Rogers and Brian Vega (and now joined by Joey Camello on Guitar), two producers who came to be friends years before. After spending the next decade touring in various bands, the two reconnected while living in Oakland, California over their shared interest in darkwave and electronic music. Having started FEARING as a 4 piece guitar band with full acoustic drums, to now touring and recording as a 3 electronic hybrid, the group has showcased a potential to grow and change. And through vigorous touring and live endeavors (with the likes of Portrayal of Guilt, Gatecreeper, She Wants Revenge, Soft Kill, Choir Boy, Narrow Head, and Death Bells, along with playing notable festivals as Substance, Home Sick, and Out From The Shadow), FEARING keep their live performances momentous.
See FEARING on the road in October + November:
October 23 Salt Lake City UT @ Ace's High Saloon
October 24 Denver CO @ The Crypt Bar
October 26 Denton TX @ Rubber Gloves
October 27 Austin TX @ LEVITATION – Elysium *
October 29 El Paso TX @ Modern Art Bar
October 31 Mesa AZ @ Nile Underground
November 1 Las Vegas NV @ Backstage Bar
* w/ Crack Cloud